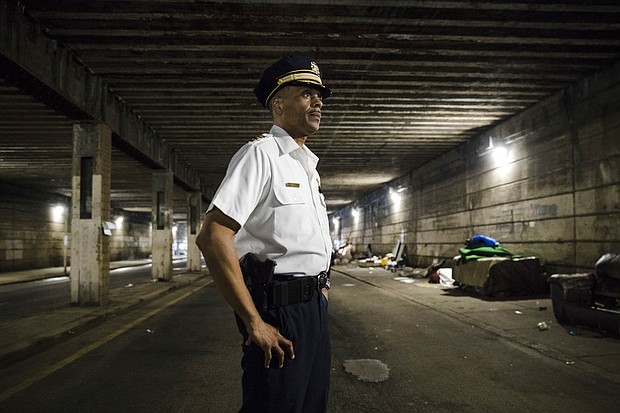 Philadelphia Police Commissioner Richard Ross overseas the clearing of an encampment under a bridge in Philadelphia, Wednesday, May 30, 2018. The city's homeless packed up their few belongings as sanitation workers cleaned and power washed what had been a heroin encampment only moments before. (AP Photo/Matt Rourke)
Stories this photo appears in:

Jason Carmine moved to Philadelphia from Delaware when he was offered a job in the landscaping business. But within two weeks, he found himself unemployed with nowhere to go. He and his father, Kevin, huddled beneath a bridge in Philadelphia, sheltering with other people who, like them, were addicted to heroin. A few days later, the city announced it would clear out two encampments that primarily harbored people affected by the opioid crisis. One of the targeted locations was Carmine's new home.