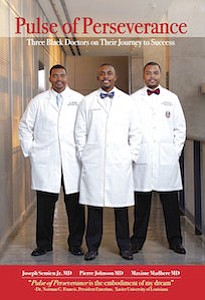 Joseph Semien, Jr., from left, Pierre Johnson and Maxime Madhere on their book called "Pulse of Perseverance: Three Black Doctors on Their Journey to Success." (Aaron Cormier via AP)
Stories this photo appears in:
One used to deal drugs on the streets of New Orleans. Another grew up in Chicago with two drug-addicted parents. A third survived the tough streets of New York and Washington, D.C., where he once stared down the barrel of a gun.