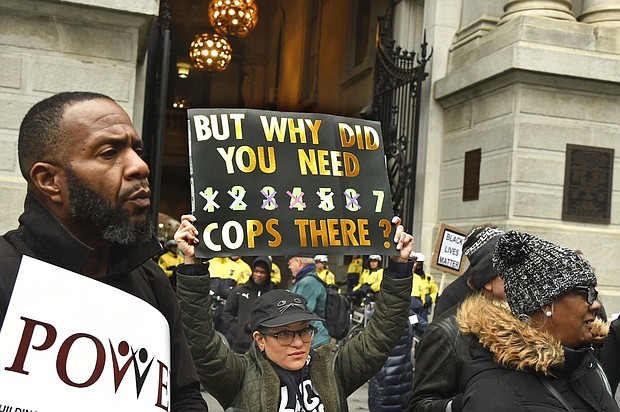 Dani Jo, 31, of Kensington, with Black Lives Matter, holds her sign as she joins protesters organized by the interfaith group POWER outside Philadelphia City Hall, Thursday, April 19, 2018, rallying against the decision of officers to arrest two black men at a Center City Starbucks last week. (Tom Gralish/The Philadelphia Inquirer via AP)
Stories this photo appears in:

The Philadelphia Police Department on Friday announced a new policy on how to confront people accused of trespassing on private property, two months after coming under fire for arresting two black men waiting for a colleague at a Starbucks.

Two recent encounters at a Philadelphia Starbucks and a Pennsylvania golf club that led to allegations of racism against black patrons escalated into full-blown confrontations when people decided to call 911 to report incidents that clearly weren't emergencies.