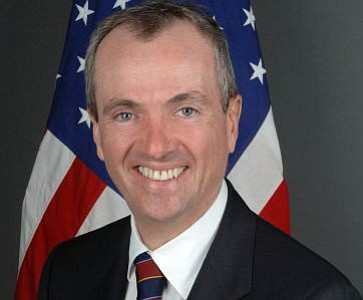 Phil Murphy. - Wikipedia photo
Stories this photo appears in:
New Jersey on Wednesday enacted a half-dozen new gun control laws, tightening its already strict statutes as advocates applauded and critics questioned whether they will achieve their aims.
Gov. Phil Murphy said Wednesday he wasn't suggesting Senate President Steve Sweeney was a racist for holding up confirmation votes on two Cabinet nominees who are black.
New Jersey Gov. Phil Murphy on Thursday redoubled his campaign promise to raise income taxes on millionaires but said such a change does not have to be permanent.
New Jersey Gov.-elect Phil Murphy traveled to Puerto Rico on Friday and met with hurricane victims as he surveyed the damage caused by Hurricane Maria nearly three months ago.
New Jersey Gov.-elect Phil Murphy is planning a trip to hurricane-hit Puerto Rico.

Frank Gilliam elected new mayor of the resort city
It's been a year since the state took over control of Atlantic City--and Nov. 7 voters played the odds and won and elected Atlantic City as City Council President Frank Gilliam over Republican incumbent mayor Don Guardian to assume the reins of the beleaguered South Jersey resort city.
Sheila Oliver named commissioner of the Department of Community Affairs
Just days after his overwhelming win as New Jersey's new governor, Democrat Phil Murphy has appointed Lieutenant Governor-elect Sheila Oliver to serve as Commissioner of the Department of Community Affairs (DCA). He has also named a staffer to former governor Jon Corzine to manage his transition team, officials recently announced.

Former President Barack Obama and Hillary Clinton stumped for Democratic gubernatorial candidate Phil Murphy in private and invitation only events in recent days in New Jersey.
Voter registration deadline is October 17
Democratic gubernatorial candidate Phil Murphy continues to lead his Republican opponent current Lt. Gov. Kim Guadagno by double digits in the race for governor according to a recent poll from Suffolk University/USA Today Network Poll.
Lt. Gov. Kim Guadagno and Democratic candidate Phil Murphy made stops at the 10th annual business leadership conference hosted by the African American Chamber of Commerce of New Jersey (AACCNJ) in Newark.
New Jersey Democrats overwhelmingly nominated former Wall Street executive Phil Murphy as their candidate for governor in Tuesday's primary elections.
Hundreds of supporters greeted former vice president Joe Biden in the Garden State recently in an effort to rally support for Democratic gubernatorial candidate Phil Murphy. The former vice president made an extended pit stop in Lyndhurst.

After two terms, Chris Christie will be stepping down. With polls numbers in the low 20s, it is highly unlikely Christie would get re-elected even if state law allowed him to run for a third term.