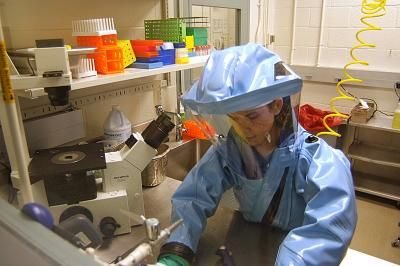 A researcher working with the Ebola virus while wearing a BSL-4 positive pressure suit to avoid infection.
Stories this photo appears in:

When President Franklin D. Roosevelt assumed the presidency at the depth of the Great Depression he helped the American people regain faith in themselves when he asserted in his Inaugural Address, "the only thing we have to fear is fear itself."
The spread of the deadly Ebola virus in Africa is a global health emergency. Countries around the world must join together to mobilize the resources, build the isolation units, supply the needed medicine, doctors, nurses and support personnel needed to isolate and treat those afflicted, track down and monitor those who might have been in contact, and stop the epidemic.