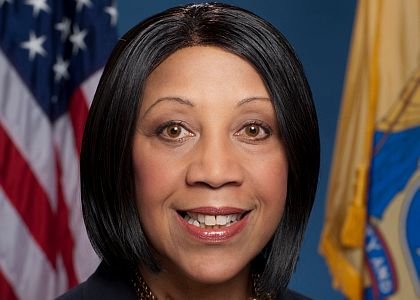 Sheila Oliver
Stories this photo appears in:

Sheila Oliver becomes New Jersey's first African American Lt. Governor
Democrat Phil Murphy will be the next governor of New Jersey—soundly defeating current lieutenant governor and longtime Chris Christie ally Kim Guadagno in one of only two governor's race in the country.

South Jersey Journal celebrates its second annual class of the 25 Most Influential African Americans in New Jersey.
Democratic gubernatorial candidate, Phil Murphy has tapped former House Assembly speaker Sheila Oliver to be his running mate and lieutenant governor---thus making her potentially the highest ranking and first African American to be second in command in the state.
NJ schools required to teach students how to respond to police under proposed law
Assemblywoman Sheila Oliver recently announced her sponsorship of controversial legislation that would require every school across New Jersey to teach students about the role of police in public safety and how to respond to direct orders from police officers and law enforcement agents.

Actor, activist Paul Robeson and abolitionist William Still are two of the most widely known figures in New Jersey's African-American history. But there are many African American women who also made history, but are lesser known.
Former state Assembly speaker Sheila Oliver announced last week that she is writing a tell-all book about her tenuous four years as New Jersey's first African American woman to serve as state Assembly speaker.