ABC and 'Roseanne': Many warning signs before racist tweet
David Bauder, AP Media Writer | 5/31/2018, 6:47 a.m.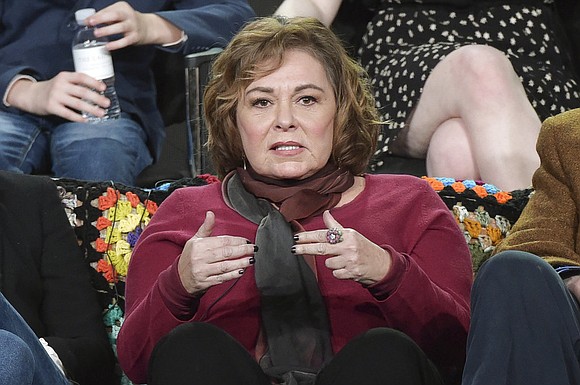 "Everyone involved made a decision to support the show despite its co-creator's racism," Gay wrote. "They decided that their career ambitions, or desire to return to network television, or financial interests would best be served by looking the other way. It was only when Ms. Barr became an immediate liability that everyone involved finally looked at her racism and dealt with it directly."
ABC executives talked shortly after the 2016 election about a need to have more on the network schedule to reflect the point of view that got Trump elected. When Sara Gilbert began rounding up the old "Roseanne" cast for a reunion in early 2017, ABC fought Netflix for the rights to show it. The network — indeed all of broadcast television — needed some successful comedies.
The rebooted "Roseanne," where Barr played a Trump supporter, worked beyond anyone's dreams — logging 25 million viewers for its premiere in March and settling in as television's second most popular comedy after "The Big Bang Theory."
"I tend to be pretty forgiving to people who feel they can get a good show out there and keep the star in check, and you usually can, because a lot of stars can be problematic," said Garth Ancier, a veteran television executive who ran entertainment programming at Fox, NBC and the WB networks.
"I think it was a reasonable bet to take, and it worked until it didn't," Ancier said.
Ted Harbert knows better than most what Dungey and her boss, Ben Sherwood, went through. He was ABC's top programming executive during the first run of "Roseanne" in the 1990s. Barr was his headache then; he recalled having to go to her home where she was holed up with Tom Arnold for a few weeks and refusing to work in 1994, and coax her out.
"This is a person who, left to her own devices, is not totally in control," Harbert said. She has the temperament, and the tendency to go to dark places, that fuels many artists, he said.
Social media complicates the efforts of networks to keep stars working and things running smoothly, he said.
"How do you stop someone who does something like this in the middle of the night?" he said. "She blows up her own life and that of all those around her."
If he were in Dungey's position when the rebooted "Roseanne" was being considered — mindful that his job is to produce hits, or it won't be his job much longer — Harbert said he probably would have taken several meetings with Barr to figure out how she was doing. He probably would have made the same decision ABC made, he said.
Both former executives praised ABC for moving swiftly when presented with Barr's tweet. Ancier said ABC probably had a plan in place for that eventuality, given how quickly the show was erased from network web sites.
"A lot of comics say terrible things," Harbert said. "As long as they make us laugh, it's easy to forgive. What Roseanne said was not funny." -- (AP)