Way to go, Mom: In Paris, Serena Williams wins Slam return
Howard Fendrich, AP Sports Writer | 5/30/2018, 6:43 a.m.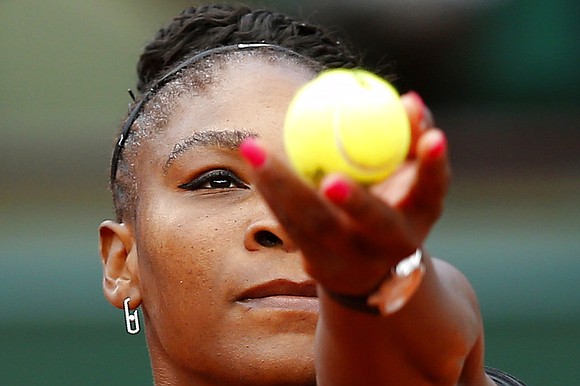 PARIS — For all that has changed in the 16 months since Serena Williams last played in a Grand Slam tournament — she is now married and a mother — so much was familiar about her at the French Open on Tuesday.
The fashion statement, this time in the form of a black bodysuit with a red belt that she said made her feel like a "warrior princess." The cries of "Come on!" The big serves that provided 13 aces. The returns that eventually produced three consecutive breaks of serve.
And, yes, the victory. Competing as a mom for the first time at a major, and only about nine months since giving birth to her daughter, Alexis Olympia, then dealing with postpartum complications, Williams edged 70th-ranked Kristyna Pliskova of the Czech Republic 7-6 (4), 6-4 at Roland Garros.
Already a transcendent sports star and cultural icon, Williams now carries a new title: working mother.
"Well, my priority is Olympia. No matter what, that's my priority. I have given tennis so much, and tennis has actually given me a lot, and I couldn't be more grateful," Williams said. "She's my priority, and I work everything around her."
The 36-year-old American had not played in one of tennis's biggest tournaments since winning the Australian Open in January 2017 for her 23rd Grand Slam title, breaking a tie with Steffi Graf for the most in the professional era.
Williams, the world found out later, was pregnant at the time. Her baby was born Sept. 1; Williams married Reddit co-founder Alexis Ohanian in November.
Williams eventually revealed that she had an emergency cesarean section, then encountered trouble breathing afterward because of a pulmonary embolism and needed a follow-up operation.
"Just literally not sure if I was going to make it or not at several different times," Williams said. "A lot of people have really reached out, because they have so many similar stories, too. I feel like a lot of people don't talk about it. They talk about the baby and how happy they are. But it's a lot that goes into it with the pregnancy and with giving birth, and it's called a 'miracle' for a reason."
The first match of her comeback was in doubles alongside her older sister, Venus, for the U.S. Fed Cup team in February. She entered two tournaments in singles the next month, going 2-2. An absence of more than two months followed, until Tuesday in Paris.
So a woman who has spent hundreds of weeks ranked No. 1 is currently No. 451 and unseeded at the French Open, a subject of some debate: Should her past success accord her the protection a seeding offers? Williams faces 17th-seeded Ash Barty of Australia next.
"She's a genuine champion," Barty said. "What she's done to be able to get back ... is a pretty amazing thing."
Tuesday's return was striking, from Williams' powerful shots to her outfit, which called to mind the "catsuit" she wore at the 2002 U.S. Open.