Column: Jack Johnson's biggest crime was being black
Tim Dahlberg, AP Sports Columnist | 5/26/2018, 8 a.m.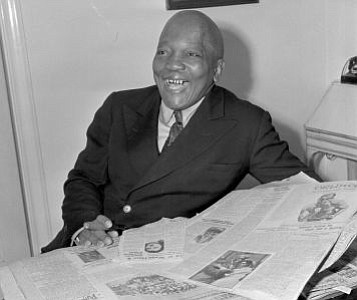 Jack Johnson's biggest crime was being an unrepentant black man who beat up white men for a living.
High-flying and flamboyant, he refused to live by the unwritten rules of American society in the early 1900s. That made him a target, and that eventually cost him his freedom after being convicted of squiring a white woman — his girlfriend at the time — across state lines.
Now Johnson's name has been cleared, thanks to an actor who famously portrayed a fighter and a president who has an affinity for the Sweet Science himself.
Unfortunately, it took way too long to get it done.
Years of work by Sen. John McCain and former Senate Majority Leader Harry Reid had failed to convince previous presidents to do the right thing and pardon the former heavyweight champion.
But when Rocky — aka Sylvester Stallone — came calling at the White House, an unjust conviction was quickly wiped away.
More importantly, perhaps, a family's pride was restored.
"I did not realize and know he was my uncle until I was 12 years old because of the shame that the family carried, and most of them took it to their graves," said Linda E. Haywood, Johnson's great-great niece. "By this pardon being issued, that would help to rewrite history, and erase the shame and the humiliation that my family felt for my uncle, a great hero, being in prison unjustly."
Stallone was the one who got President Donald Trump's ear and convinced him to pardon Johnson. He was joined at the White House ceremony Thursday by former heavyweight champion Lennox Lewis and current champ Deontay Wilder, who talked a little boxing with the president.
For Wilder it was a chance to celebrate a wrong finally being made right.
"I don't think people know the significance behind this," he said. "Of course it's 90 years or so too late, but it happened. It was an amazing moment to be there."
The story of Johnson is as much a story of the times as it is about his work as a boxer. Shunned by white champions who refused to fight him, he traveled to Australia in 1908 to beat Tommy Burns and become the first black heavyweight champion.
He defended the title easily against a series of so-called "Great White Hopes," leading to an outcry among whites to find someone who could win the title back. Finally, former champion Jim Jeffries agreed to come out of retirement to take Johnson on in 1910 in what was a scheduled 45-round fight in Reno, Nev.
It was dubbed the Fight of the Century and the hype lived up to the billing. A temporary arena was built in downtown Reno, special trains were commissioned to bring fans into town, and 18,000 people packed the stands with another 2,000 paying $5 for the right to stand outside.
"If the black wins," author Jack London wrote, "it may be the last act of his life."
Under a blazing sun on July 4 in the most eagerly anticipated fight ever, it was no contest. Johnson dominated the fight, breaking Jeffries' nose and blackening his eyes. After Johnson knocked him down in the 15th round, Jeffries' corner threw in the towel.