US embassy jubilantly opens in Jerusalem as Gaza rages
Aron Heller, Associated Press | 5/14/2018, 10:12 p.m.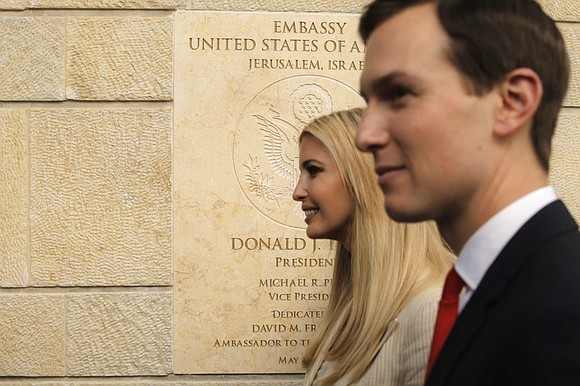 THE ROYAL COUPLE
Of all the dignitaries, Kushner and Ivanka attracted the most attention. Their arrival to Israel was widely reported in the local media and both played a part in the embassy's opening ceremony. Ivanka, in an off-white outfit, unveiled the embassy seal and dedication plaque while her husband delivered one of the keynote addresses.
"While presidents before him have backed down from their pledge to the move the American Embassy once in office, this president delivered. Because when President Trump makes a promise, he keeps it," Kushner said. "The United States stands with Israel because we know it is the right thing to do."
CHRISTIANS GALORE
As significant as the event was for many Jews, it appeared to be equally important for Israel's Christian allies. The invitation-only audience seemed to have as many Christians as Jews, and prominent evangelical Christian allies took part in the ceremony.
Pastor Robert Jeffress, leader of a Dallas-area Baptist church and a spiritual adviser to Trump, delivered the opening blessing, and Pastor John Hagee gave the closing blessing.
Senate candidate Mitt Romney of Utah said Jeffress shouldn't be giving the prayer because he's a "religious bigot." Jeffress has drawn criticism for calling Islam and Mormonism "a heresy from the pit of hell" and saying Jews "can't be saved."
Jeffress told The Associated Press before the blessing that some of the things attributed to him have been taken out of context.
"I think it's sad that Mitt feels the need to lash out in bitterness and anger on such a historic day but it's not going to overshadow what is happening here," he said. "For 2,000 years, historic Christianity has taught that salvation is through Christ alone."
The evangelical embrace has drawn criticism from some quarters, especially liberal American Jews who oppose the conservative Christian agenda. Evangelicals say their affinity stems from Christianity's Jewish roots, and some view Israel's establishment as fulfilling biblical prophecy.
"It's a dream come true," said Shari Dollinger, the co-executive director of Hagee's Christians United For Israel. "This is the fulfillment of years of Jewish and Christian prayer." -- (AP)