Lay your money down: Court says states can OK sports betting
Jessica Gresko and Wayne Parry, Associated Press | 5/14/2018, 10:10 p.m.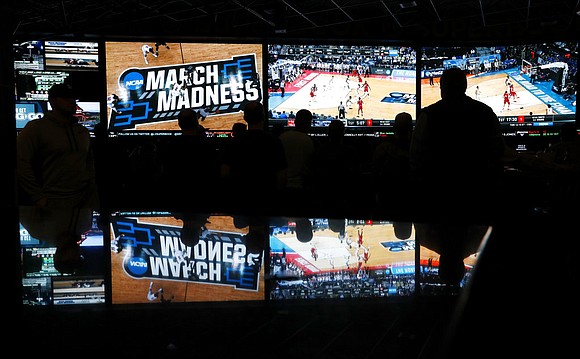 Sports gambling proponents argued that the leagues already do that work and that legal sports betting will make enforcement easier than it is now, when most bets in the U.S. are made illegally. They say state regulators are capable of monitoring suspicious bets, as is done in Nevada.
On Monday, NBA commissioner Adam Silver and Major League Baseball issued statements saying the "integrity" of their games would remain a priority. Representatives of the National Hockey League, National Football League and NCAA said they were reviewing the court's decision.
Some saw other concerns, including for some gamblers. The ruling "will likely increase gambling participation and gambling problems unless steps are taken to minimize harm," said Marlene Warner, the president of the National Council on Problem Gambling's board of directors. The council said any government body or sports league that receives a direct percentage or portion of sports betting revenue should dedicate some of it to treat gambling problems.
The law the justices struck down was passed by Congress in 1992 and called the Professional and Amateur Sports Protection Act.
Justice Samuel Alito wrote for the court, "The legalization of sports gambling requires an important policy choice, but the choice is not ours to make." The court's "job is to interpret the law Congress has enacted and decide whether it is consistent with the Constitution," he wrote. "PASPA is not."
Justices Ruth Bader Ginsburg, Stephen Breyer and Sonia Sotomayor dissented. Ginsburg wrote for the three that when a portion of a law violates the Constitution, the court "ordinarily engages in a salvage rather than a demolition operation," preserving what it can. She said that instead of using a "scalpel to trim the statute" her colleagues used "an axe." Breyer agreed with the majority that part of the law must be struck down but said that should not have doomed the rest of the law.
Congress could try to step in again. Sen. Orrin Hatch said he would soon introduce legislation to set national standards for sports betting, but It is unclear whether the rest of Congress will want to join him.
The ruling was a particular victory for New Jersey, which has fought for years to legalize gambling on sports at casinos and racetracks. Former Republican Gov. Chris Christie tweeted that it was a "great day for the rights of states and their people to make their own decisions." The state's current governor, Democrat Phil Murphy, said he was "thrilled" to see the high court strike down the "arbitrary ban." Several hours after the Supreme Court ruled, New Jersey lawmakers introduced new legislation that would regulate and tax sports gambling in the state.
Casinos and racetracks in the state are also moving quickly. Monmouth Park, a racetrack at the Jersey Shore, has already set up a sports book operation and said Monday it plans to start taking bets within two weeks "unless someone stops us." And Tony Rodio, president of Tropicana Entertainment, said his Atlantic City casino will offer sports betting once it can get it up and running.
"It's been a long time coming," he said. -- (AP)