Devon Still's new career: trying to tackle childhood cancer
Joe Kay, AP Sports Writer | 5/5/2018, 10:33 a.m.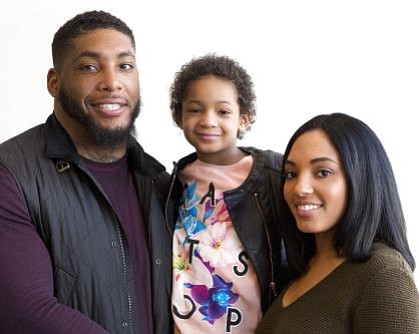 "That's tougher," he said. "I feel sometimes we suffer from survivors' remorse."
Leah has a photogenic smile that brightens the room — people saw it in Still's tweets during her treatments — and reminds Still of his priorities.
"Honestly, to this day I just sit there and stare at Leah," he said. "I meet so many kids that pass away from this. I may have lost something I wanted so bad — being in the NFL — but I still have my daughter and that's so much more important."
During his daughter's ordeal in 2014, Still got home from a Bengals' practice and saw a local television story about Lauren Hill, the Mount St. Joseph freshman who played basketball with an inoperable brain tumor. He decided to visit Lauren and brought her a Bengals jersey as a gift.
"They sat and talked forever," said Lauren's mom, Lisa. "It was almost like a bond, like they'd known each other longer than just meeting. I distinctively remember her saying she felt like she knew him forever. Their conversation just flowed."
After Hill scored two baskets in her first game, she visited Still at Paul Brown Stadium and gave him one of her game jerseys . Soon after, Leah met Lauren at a Bengals game. The families formed a bond as they crossed paths at various events.
"Lauren's story came out and, in kind of a weird way, you feel alone because you're being barraged with a lot of media coverage," said Lisa Hill, who works with The Cure Starts Now Foundation . "As a parent, it's nice to have that camaraderie and know you're not alone."
It was the same for Still, who was taken aback when Lauren gave him the game jersey.
"I knew they understood what I was going through," Still said. "Talking to Lauren and her parents put life in perspective."
A perspective that's carrying him into his second career. -- (AP)