Immigrant advocate brings fight to South Jersey
Erin Serpico, The Press of Atlantic City | 3/30/2018, 7:30 a.m.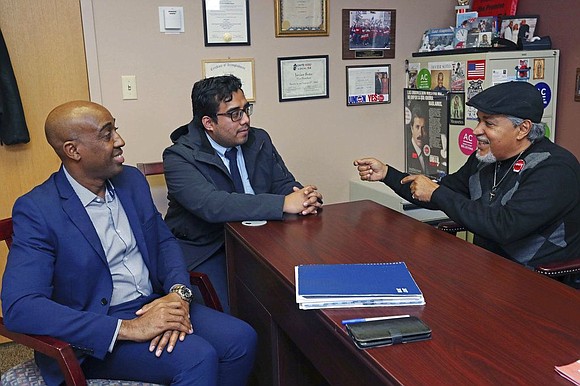 ATLANTIC CITY, N.J. — Cristian Moreno-Rodriguez was just 12 years old when his mother told him about his parents' challenges coming to this city undocumented from Mexico.
It was her dream to come to this country from an impoverished village with little work, he said. She told him about crossing the border and the fear they experienced.
"In the sixth grade, you're not really cognizant of this stuff," he said. "It made me realize they were almost powerless in this country."
That moment made him realize he wanted to be the voice for the immigrant community in Atlantic City — the place where he was born and raised to protect people like those who raised him, he said.
Moreno-Rodriguez, now 22, started the Atlantic City Coalition for Immigrant Rights about two months ago, an alliance of community leaders and groups throughout the city working on advocacy for immigrant rights.
With an estimated 12,000 unauthorized immigrants in Atlantic County out of the 498,000 estimated in the state, South Jersey is not filled with many organized immigrant rights movements, said Johanna Calle, director of the New Jersey Alliance for Immigrant Justice.
Calle works with advocacy organizations around the state and has been working with Moreno-Rodriguez and his coalition to organize and provide outreach to the Atlantic City area.
A grassroots effort like this one would help bring people together to support each other in an area without a dense immigrant population, she said.
"There's really not a lot of organizing down in South Jersey in general in terms of immigrant rights," Calle said. "It's just been hard for immigrant communities to get support in that part of the state."
Moreno-Rodriguez wants that to change. His coalition has been working on policy that aims to protect immigrants in the city who could be facing deportation under President Donald Trump's administration.
He's held a rally for immigrant rights at Our Lady Star of the Sea church to let people in the community know what resources are available. He's led a rally to oppose Trump's decision to end Deferred Action for Childhood Arrivals, or DACA, which prevents deportation of people who came to this country as children but remained in the country undocumented.
Now, his focus is on making the city a "fair and welcoming city."
He's hoping for Mayor Frank Gilliam to sign an executive order that would lay out anti-discrimination policies, require language assistance services and limit the city's resources that could be used to assist federal immigration officials, unless required by law.
Other cities in the state, such as Hoboken and Newark, have implemented a similar order.
"Here in Atlantic City, we have the power and we have the ability to protect our immigrant community," Moreno-Rodriguez said.
The group has been hoping to meet with Gilliam to discuss the measure, which he had not signed as of this week.
Gilliam declined to comment for this story.
Moreno-Rodriguez's passion for the movement arose during an internship he had in Washington, D.C., working for U.S. Rep. Raul Grijalva, who represents Arizona's 3rd Congressional District.