50 years later, remembering one of MLK's last speeches
Richard Cowen, The Record | 3/28/2018, 6:47 p.m.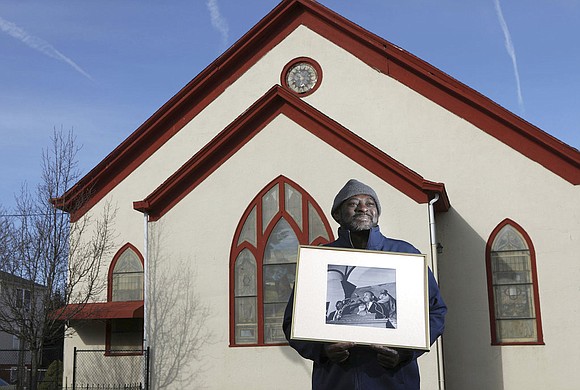 PATERSON, N.J. — Thousands of people were jamming the sidewalks on a late March evening 50 years ago when the motorcade that brought Dr. Martin Luther King Jr. to Paterson finally turned the corner onto Auburn Street and made its way to the old wooden church where the sound of gospel music swirled through the rafters like incense.
King, as usual, was running late, his stop at Community Baptist Church of Love was coming at the tail-end of what had been a one-day swing through Newark, Orange, Jersey City and, finally, Paterson. The focus of the visit on March 27, 1968, was raising money and awareness of the Poor People's Campaign, King's latest venture in the non-violent struggle for civil rights that sought to bring thousands of demonstrators to Washington that spring to erect a shantytown to protest poverty.
"His message was about the cities, and how Paterson didn't stand alone," recalled Marilee Jackson, a community organizer who was inside the church and would later be elected to the city council. "It wasn't just about integration, or desegregation. It was about economic opportunity and economic parity."
No one who came to see King that day could have known that it would be his last public appearance in the North. But in what now seems like an eerie foreshadowing of his death by an assassin's bullet eight days later, King stood at the pulpit beneath a painting of Jesus praying in the Garden of Gethsemane on the night before his crucifixion, begging "for this cup to pass," according to scripture.
King spoke at the church for about 20 minutes, then left Paterson and flew home to Atlanta later that night. The next morning, he flew to Memphis, Tennessee, to lead an ill-fated march of striking sanitation workers that ended in a riot.
Desperate to prove that non-violent protests could still force change, King stayed on in Memphis to plan another demonstration. But a single bullet fired by James Earl Ray cut King down as he stood alone on the balcony of the Lorraine Motel on the evening of April 4, 1968.
Had King not been assassinated, the visit to Paterson would have amounted to little more than a footnote in history. But the tragedy that unfolded in Memphis — seemingly foretold by King when he addressed a church crowd the night before his death, saying "I've seen the Promised Land — I may not get there with you, but I want you to know tonight that we as a people will reach the Promised Land" — makes the Paterson visit all the more poignant.
The church still stands, and although it was designated a municipal landmark back in 2011, it's never been properly marked. There's no plaque to recall King's visit at what is now the Bethel A.M.E. Church, and a vacant lot across the street that was supposed to be set aside as a park to honor the slain civil rights leader remains a patch of dirt.
"It now seems prophetic that Dr. King stood under that painting," said Jimmy Richardson, 65, who grew up in a house about 50 feet from the church and remembers standing on his porch waiting for King to arrive that day. "Looking back, that day was kind of a conclusion. But it is also a reminder of what Dr. King stood for. His legacy is something we can celebrate and be proud of."