No. 1 pick Fultz scores 10 points in 1st game since October
Dan Gelston, AP Sports Writer | 3/27/2018, 6:27 a.m.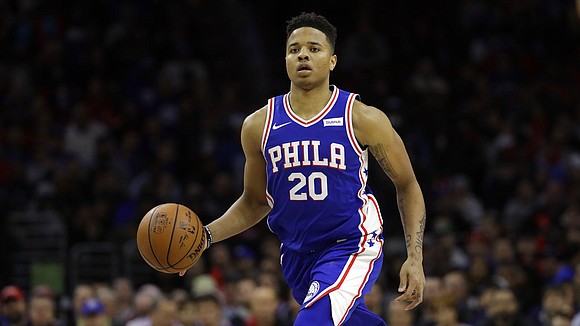 PHILADELPHIA — Markelle Fultz heard 20,000 fans chanting "Fultz! Fultz! Fultz!" and for a fleeting moment he thought they were serenading Philly's most popular athlete.
"I thought they were saying 'Nick Foles,'" Fultz said of the Super Bowl MVP for the champion Philadelphia Eagles.
"Then I realized it, and it was pretty dope. These fans are great, and I love them."
The Sixers and their fans wanted the No. 1 pick to play and — after five often-confusing months — they got him.
Fultz scored 10 points and had eight assists in his first game since October, helping the Philadelphia 76ers beat the Denver Nuggets 123-104 on Monday night.
The first selection of the 2017 draft shot an airball, had three shots blocked and artfully attacked the lane, flashing glimpses of what has made him both a mystery project and prominent prospect.
With Philadelphia having clinched a playoff berth for the first time since 2012, Fultz decided the time was right to return from the injured shoulder and busted confidence that had cost him all but four games of his rookie season.
Fultz was on a media blackout in his absence and said nothing in his public return to clarify his situation.
He basically ignored the first two questions about his shoulder, and instead thanked teammates and coaches for their support during rehab.
Why was today the day to play?
"Just woke up and it was that day," he said.
His next two answers were as empty as his stat line since October.
Did he do something to hurt his shoulder or just feel soreness?
Fultz rubbed his face and stared straight without talking and grabbed a towel someone tossed him. His wiped his face during a few more seconds of awkward silence.
Why not talk about the injury?
Blank stare.
Fultz sparked the 76ers at times in actions, certainly not words, in a reserve role.
"He looked confident," coach Brett Brown said. "I thought it was a real, sort of bold, gutsy effort that he made given where he was now where he is."
The 19-year-old Fultz played the 76ers' first four games of the season before he was ruled out indefinitely in October with soreness and a scapular muscle imbalance in the shoulder.
The Sixers aren't sure what they'll get out of Fultz as they push toward 50 wins.
"That is a great unknown," team president Bryan Colangelo said. "I'm not sure I have the answer. We will have to ... certainly not judge tonight as the sole case of what to expect going forward."
Fultz checked in to a standing ovation with 2:54 left in the first quarter and drove down the baseline for a quick basket. But Fultz — whose awkward shooting form made him a punchline in the NBA — fired an airball later in the quarter.
Perhaps trying to force his shot too much, Fultz also had two shots blocked on the same possession. He was a pedestrian 1 for 4 with three assists in the first half.