2 officers in black man's fatal shooting won't be charged
Michael Kunzelman and Anthony Izaguirre, Associated Press | 3/27/2018, 8:41 p.m.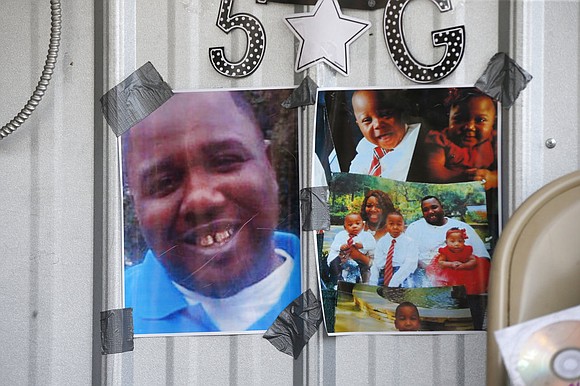 BATON ROUGE, La. — Louisiana's attorney general ruled out criminal charges Tuesday against two white Baton Rouge police officers in the shooting of a black man whose death led to widespread protests nearly two years ago.
Attorney General Jeff Landry's decision came nearly 11 months after the Justice Department ruled out federal criminal charges in Alton Sterling's July 2016 death.
Officer Blane Salamoni shot and killed Sterling during a struggle outside a convenience store where the 37-year-old black man was selling homemade CDs. Officer Howie Lake II helped wrestle Sterling to the ground, but Lake didn't fire his gun. Two cellphone videos of the shooting quickly spread on social media, prompting large protests.
Landry made the announcement of no charges at a news conference after meeting with family members of Sterling. They angrily denounced the decision.
Quinyetta McMillon, the mother of one of Sterling's children, Cameron, said the officers killed Sterling "in cold blood."
"They took a human away. They took a father away. They took somebody away that did not deserve to be away," she said.
Landry said his office reviewed all of the evidence compiled by the Justice Department and also conducted its own interviews of witnesses.
"I know the Sterling family is hurting," Landry told reporters. "I know that they may not agree with the decision."
Toxicology and urine test results released Tuesday showed Sterling had cocaine, methamphetamine, fentanyl and other drugs in his system at the time. Landry said it was "reasonable" to conclude Sterling was under the influence of drugs during the struggle "and that contributed to his non-compliance" with the officers' commands.
Landry didn't take any questions from reporters.
A lawyer for two of Sterling's five children slammed the report as biased. L. Chris Stewart said investigators did not follow up with witnesses and relied heavily on two outside experts who reviewed evidence collected by federal investigators. He also criticized the decision to put Sterling's criminal history into the report, saying that had nothing to do with the case.
The officers' body cameras and a store surveillance camera also recorded the encounter. Those videos haven't been released, but Baton Rouge Police Chief Murphy Paul said he intends to release both after he concludes the disciplinary process for the two officers, who have remained on paid administrative leave since the July 5, 2016, shooting. He hopes to complete the process Friday.
A lawyer for Lake said his client should remain on the police force. Attorney Kyle Kershaw said Lake's actions during the encounter complied with police procedure.
Salamoni's attorney, John McLindon, called it "grossly unfair" that a disciplinary hearing is planned less than a week after the end of the criminal investigation.
McLindon said he expects his client will be fired.
"I believe it's a foregone conclusion," McLindon said. "The decision has already been made."
Residents at the convenience store where Sterling was killed said they weren't surprised by Landry's decision. Le'Roi Dunn, a 40-year-old cook, gestured at the spot where Sterling was killed and said it was wrong for the officers to avoid any charges.