WOMEN OF POWER: SPOTLIGHT ON NEW JERSEY LT. GOVERNOR SHEILA OLIVER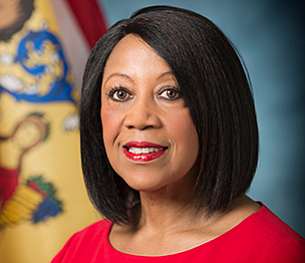 Sheila Oliver is one tough lady. As the first African American Lt. Governor of New Jersey, the outspoken native of Newark seldom backs down from a spirited discussion about business, education, politics--or justifying her place as the most powerful person of color in the Garden State.
Oliver, 67, has been Lt. Governor for less than two months—under the administration of newly elected Democratic governor Phil Murphy; however, she has been a community activist and political pundit for more than 20 years—stretching back to her beginnings as a member of the East Orange Board Education in 1994. She represented the 34th District, including the cities of Clifton, East Orange and Montclair. She was a member of the Essex County Board of Freeholders and Speaker of the New Jersey General Assembly between 2010 and 2014--becoming only the second woman to hold the position. Of her latest accomplishment, Oliver said, "This is not the first glass ceiling I've broken, but it is certainly the highest. She added, "I hope somewhere in New Jersey, a young girl of color is watching and realizing she does not have a limit to how
high she can go." Oliver is imbued with a passion to reverse the current direction of a chaotic administration in Washington that is seemingly ambivalent and incurious to the needs of women and people of color in America. It's a trend Oliver said that has been prevalent throughout New Jersey under the administration of former governor Chris Christie and her predecessor, Kim Guadagno. "I will be a much different lieutenant governor than she was" Oliver said. "She chose to remain mostly silent for seven and a half years and not comment on public policy issues." Oliver added, "I will have a voice and will not remain silent about major policy issues."
A frequent critic of both Christie and Guadagno, Oliver said the previous administration let the low income and working class people of New Jersey down with misguided policies. "They chose to focus more on giving big tax breaks to multimillion dollar corporations then serving the needs of working class people of the state," she said. She added there has been a "long drought" by the previous administration with delivering on promises to the people of New Jersey—especially to those of low to moderate income. "There's was very little inclusion and diversity in the previous administration across all sectors—geographically, culturally or ethnically," she said. "That will stop under the leadership of Phil Murphy."
Throughout her political career, Oliver has garnered both praise and debate from constituents and legislators. For example, in 2016, she was part of a group of politicians and community leaders to visit Cuba shortly after former president Barack Obama removed travel restrictions to the country. The fact finding mission sparked outrage and debate among some New Jersey legislators that accused Oliver and other Democrats of not doing enough to precipitate the immediate extradition of longtime FBI fugitive Assata Shakur (Joanne Chesimard). Shakur was convicted of first degree murder of a New Jersey State trooper during a shootout on the New Jersey Turnpike in 1973. She escaped from prison in 1979 and eventually fled to Cuba where she was granted political asylum under the regime of late dictator Fidel Castro. "The issue of prisoner exchange was discussed with governmental leaders during our visit to Cuba," Oliver said. She added that under the administration of George Bush, asylum was granted to a Cuban fugitive that officials in Cuban wanted to have extradited. "He blew up a plane and murdered 11 people," she said.
Lastly, under the direction of Murphy and Oliver, legislation designed to implement campaign promised initiatives---including increasing the state's minimum wage; LGBTQ rights, the legalization of marijuana and making New Jersey a sanctuary state, Garden State are preeminent. "We will make New Jersey the state where the road back from the politics of Trump begins," she said.