'Roxanne, Roxanne' coming to Netflix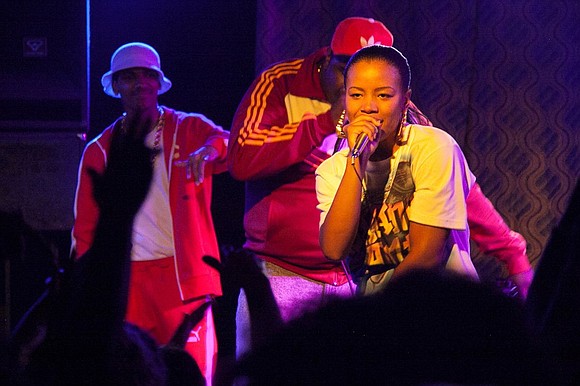 Lolita Shante Gooden was only 14 years old when she picked up a mic and made history as one of rap music's first female MCs. In 1984, using the stage name Roxanne Shante, the teenager from Queens unleashed "Roxanne's Revenge," a brutal clap back to the U.T.F.O. hit "Roxanne, Roxanne."
The U.T.F.O. song was about a "stuck up" girl named Roxanne who had spurned their advances, but Shante's response accused members of the group (Kangol Kid, Educated Rapper and Dr. Ice) of being broke, nefarious losers and ended the verbal beatdown with: "Why'd you have to make a record about me, the R-O-X-A-N-N-E."
The track, produced by DJ Marley Marl and released on Pop Art Records, sold 250,000 copies and kicked off one of rap music's first feuds – Roxanne vs. U.T.F.O. The "Roxanne Wars," as they were called, spawned a litany of dis records and even a new Roxanne, Adelaida Martinez, who used the moniker The Real Roxanne. "Roxanne's Revenge" turned hip-hop on its head and gave birth to a new generation of female MCs.
The Netflix movie "Roxanne, Roxanne" follows the life of Roxanne Shante, – from surviving her tough neighborhood in the Queensbridge Projects, to becoming a teen mom and performing around the world. Shante released three albums: "Bad Sister" (1989), "The Bitch is Back" (1992) and "Greatest Hits" (1995). Her hit singles included "Have a Nice Day" and "Go On Girl."
The biopic stars newcomer Chante Adams whose recent credits include Broadways "Ma Rainey's Black Bottom." The actress told Essence that taking on her first film role as a hip-hop icon was made all the more daunting because she had to teach herself how to "rap, speak and act" with prosthetic braces on, 30 minutes before shooting her first scene. Her riveting portrayal earned her the Sundance Film Festival's Special Jury Award for Breakthrough Performance.
Adams is joined in the film by veteran actress Nia Long, who plays her mother, and Oscar winner Mahershala Ali ("Moonlight) who plays her love interest, Cross.

Produced by Pharrell Williams and Forest Whitaker, "Roxanne, Roxanne" debuts March 23 on Netflix.
Follow me on Twitter @ShondaMcClain.