Highlights of New Jersey Gov. Phil Murphy's $37.4B budget
Associated Press | 3/19/2018, 6:20 a.m.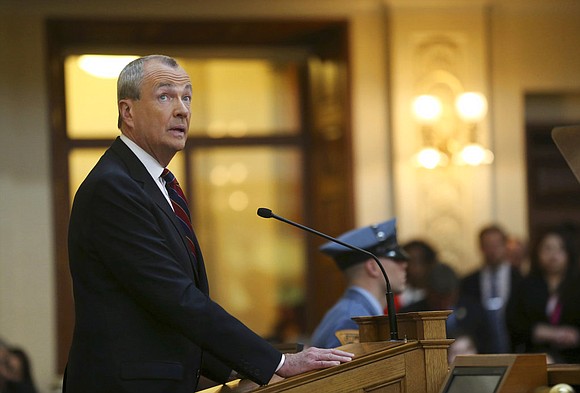 Democratic New Jersey Gov. Phil Murphy unveiled his first budget last week, a $37.4 billion spending plan that departs sharply from his predecessor, Republican Gov. Chris Christie.
A closer look at Murphy's key proposals:
TAXES
Murphy is proposing raising the tax on incomes above $1 million from the top bracket of 8.97 percent to 10.75 percent. The hike is estimated to generate more than $750 million.
He also is calling for undoing a sales tax cut that was part of Christie's deal with lawmakers to raise the gas tax and fund transportation.
Murphy's plan would raise the rate from 6.625 percent to 7 percent. That could bring in at least half a billion dollars. He is calling for expanding the sales tax to ride-sharing and certain accommodations like Airbnb.
Murphy also wants to tax e-cigarettes for about $65 million.
On business taxes, he is proposing closing the so-called carried interest loophole for about $100 million in revenue as well as other technical changes for about $110 million in new receipts.
SCHOOL AID
The governor wants to spend about $341 million in direct aid to schools under a Supreme Court-mandated formula that Christie failed to apply for. Overall, Murphy plans to increase school aid by about $1 billion or 8 percent over the current fiscal year, which ends June 30. That figure also includes pension payments, debt service and school building costs.
NEW JERSEY TRANSIT
The Democrat is calling for nearly tripling the state's subsidy to New Jersey Transit, increasing general fund support from $141 million to $383 million.
MARIJUANA
Murphy wants to legalize recreational marijuana and is expected to receive about $60 million from taxation and regulation. He is coupling that with about $20 million in estimated revenues from an expanded medical marijuana law he is banking on.
COMMUNITY COLLEGE
The Democrat is asking lawmakers to approve $50 million in new funding for community college tuition assistance. The funding request falls short of his promise for free community college, but Murphy says it would put the state on a pathway to free tuition. The new cash is expected to support 15,000 students with incomes under $45,000 to attend community college tuition for free.
MINIMUM WAGE
Murphy is calling on legislators to approve a $15 minimum wage, up from the state's current minimum wage of $8.60. It was set under a 2013 constitutional amendment that provided for raising the rate from $7.25 to $8.25, and thereafter according to inflation.
PENSIONS
The governor is calling for an increased pension payment from $2.5 billion to $3.2 billion. The proposal amounts to a 60 percent payment of the amount recommended by actuaries and falls short Murphy's pledge to fully fund the pension.