The Black Press Honors Senator Kamala Harris with 2018 Newsmaker of the Year Award
Stacy M. Brown (NNPA Newswire Contributor) | 3/17/2018, 3:29 a.m.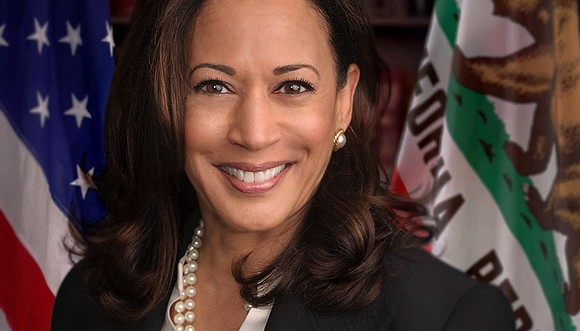 United States Senator Kamala D. Harris (D-Calif.) received the National Newspaper Publishers Association's (NNPA) 2018 Newsmaker of the Year Award, during a recent ceremony on Capitol Hill.
The NNPA is a trade group that represents more than 200 Black-owned media companies that reach more than 20 million readers in print and online every week. Dozens of NNPA member publishers traveled to Washington, D.C. to celebrate Black Press Week.
"The theme of this year's Black Press Week is 'Celebrating 191 Years of the Black Press of America: Publishing Truth to Empower,'" according to a press release about the gathering. "Black publishers, media professionals, civil rights leaders and lawmakers from across the country attend the annual event."
Harris, a graduate of Howard University and the University of California Hastings College of Law, is the second African American woman senator in U.S. history.
"My friend and fellow freedom fighter and heroine should be honored and I'm so proud to be here to present this award," said NNPA Foundation Chair and San Francisco Sun Reporter publisher Amelia Ashley-Ward.
Ashley-Ward said that she remembered when Senator Harris was campaigning to become the district attorney in San Francisco, more than a decade ago. When the race got tough, Ashley-Ward said that the Black community and the Black Press rallied around Harris.
"The Sun Reporter rented a cable car. We put some powerful women leaders on that cable car with you," Ashley-Ward said, speaking directly to Harris. "We took you all over the city…you told your story, you were running against the White establishment…Kamala won handily in that race and she's been on a meteoric rise, since then."
As San Francisco's district attorney, Harris worked to, "reduce recidivism by offering nonviolent, low-level drug trafficking defendants job training and other life skills education as an alternative to jail," according to The Los Angeles Times. Her office reported that during the first two years of the program, "less than 10 percent of those who graduated from the program were reoffenders — compared to 53 percent of drug offenders statewide who returned to prison or jail within two years of release."
As California's Attorney General, Harris, "joined other state attorneys general in brokering a $25-billion nationwide settlement deal with the nation's five largest mortgage institutions for improper foreclosure practices during the recent housing market crash," The Los Angeles Times reported.
During a recent Judiciary Committee hearing, Harris, "criticized President Trump's proposal to arm teachers…following the deadly school shooting in Parkland, Fla., saying it doesn't make sense," The Hill reported. Harris also praised students who have risen up to push lawmakers to enact new gun safety measures.
Ashley-Ward encouraged attendees to read Harris' biography online before adding: "The real reason you are who are is because you didn't forget where you came from."
Dorothy Leavell, the chairman of the NNPA and publisher of the Crusader Newspapers in Chicago and Gary, Ind., called 2018 "the year of the woman."
Leavell said that to honor Harris as the Newsmaker of the Year was just another one of the perks of being the chairman of the NNPA.