NAACP critical of HUD Secretary Ben Carson's policy changes
Civil rights group says the agency is pulling away from its key mission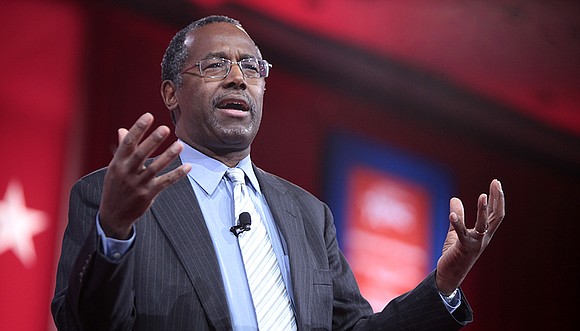 The NAACP says it is deeply concerned by Secretary of Housing and Urban Development Ben Carson's "move to dilute the agency's long-standing mission."
The nation's oldest civil rights organization recently released a statement critical of proposed changes at HUD:
"The Department of Housing and Urban Development Act, which established HUD as a cabinet-level agency, declared a purpose: "[T]o provide for full and appropriate consideration, at the national level, of the needs and interests of the Nation's communities and of the people who live and work in them." This purpose is sustained through the agency's mission to "build inclusive and sustainable communities free from discrimination." Secretary Carson's action not only threatens HUD's founding purpose, but also reveals plans of regression.
"Dr. Carson's attempt to diminish HUD's mission comes on the heels of the 50th anniversary of the Kerner Commission's report which affirmed that discrimination and segregation had long permeated much of American Life and continues to threaten the future of every American; and at a time when the Trump administration seeks to cut billions of dollars in housing aid for low-income families," said NAACP's Sr. Director of Economic Programs, Marvin J. Owens, Jr.
The U.S. Department of Housing and Urban Development, an agency charged with ensuring equal access to housing following generations of government-endorsed racial segregation, is considering removing the words "free from discrimination" from its mission statement, reports the Washington Post
The potential change is part of "an effort to align HUD's mission with the Secretary's priorities and that of the Administration," according to a March 5 memo sent to political staff obtained by HuffPost.
Raffi Williams, an agency spokesman, characterized the proposed changes to HUD's mission statement as "modest" in an effort to articulate the agency's work in a "clear and concise" way.
The proposed statement put a priority on self-sufficiency.
It reads: "HUD's mission is to ensure Americans have access to fair, affordable housing and opportunities to achieve self-sufficiency, thereby strengthening our communities and nation."
References to "inclusive communities," consumer protections and "quality" homes for all have been removed.
Diane Yentel, president and chief executive of the National Low Income Housing Coalition, said removing anti-discrimination language from the agency's mission statement is the latest move by Carson to de-emphasize HUD's role in creating inclusive communities.
"Secretary Carson is sending a message to the country that he does not take discrimination in the housing market seriously. It's especially appalling, as we near the 50th anniversary of the Fair Housing Act, that Secretary Carson would signal this step away from Dr. King's legacy," Yentel said in a statement. "Thankfully, the law trumps a mission statement, so those legal obligations remain."
The Washington Post contributed to this story.