Ex-Massachusetts Gov. Patrick weighing 2020 White House bid
Steve LeBlanc, Associated Press | 3/11/2018, 11:33 a.m.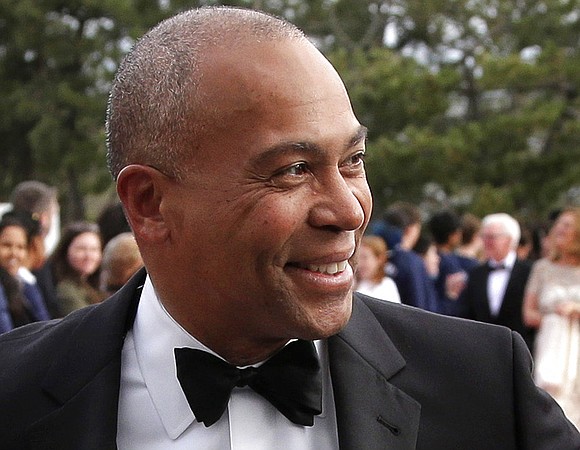 Patrick's success came in part from his skill at connecting with voters and energizing crowds — a skill on display during the 2012 Democratic National Convention when he challenged members of his party to "grow a backbone and stand up for what we believe."
Paul Watanabe, professor of political science at the University of Massachusetts-Boston, said it's reasonable for Patrick to consider a run.
"He was able to leave office on his own terms, rather than be defeated," Watanabe said. "His electoral success is something that's a big plus for him."
A MASSACHUSETTS MILESTONE
Patrick was the state's first African-American governor, and while his race was less of an issue during his time in office, Watanabe said it will be on the mind of some voters if he runs for president.
"Of course it's going to be an issue," Watanabe added. "The fact that he is an African-American candidate is going to be a critical issue to the extent that race remains a critical part of the agenda for the nation."
For now, Patrick is holding his political cards close to his vest.
"My current focus is to figure out how ... I can help some of the candidates who are running in 2018," Patrick said, adding: "I'm an amateur. I've run for one thing two times."
CURIOUS VOTERS
Massachusetts voters are curious about Patrick's plans.
Jinny Fitzgerald, a 65-year-old pediatrician from Somerville, said she voted for Patrick twice, but was disheartened to learn after he was finished "how much of a budget deficit was left behind ... and also still what terrible shape (the Department of Children and Families) was in."
Fellow Somerville resident Yolonda Neal said anybody's better than Trump.
"If he wants to go ahead and run for president and his ideas ... benefit lower class or middle class families, I'm all for it," the 27-year-old said.
Another Massachusetts resident impressed with Patrick's election skills is Republican Gov. Charlie Baker, who lost to Patrick in 2010.
"He is one heck of a campaigner," Baker said Thursday on WGBH-FM. "He would be a formidable candidate." -- (AP)