Trump economic aide Cohn departs after trade disagreement
Zeke Miller and Jonathan Lemire, Associated Press | 3/6/2018, 8:12 p.m.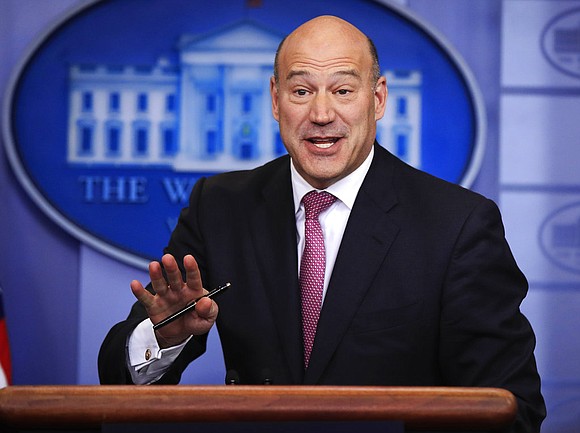 WASHINGTON — Top economic adviser Gary Cohn is leaving the White House after breaking with President Donald Trump on trade policy, the latest in a string of high-level departures from the West Wing.
Cohn, the director of the National Economic Council, has been the leading internal opponent to Trump's planned tariffs on imports of steel and aluminum, working to orchestrate an eleventh-hour effort in recent days to get Trump to reverse course. But Trump resisted those efforts, and reiterated Tuesday he will be imposing tariffs in the coming days.
Cohn's departure comes amid a period of unparalleled tumult in the Trump administration, and aides worry that more staffers may soon head for the doors.
The announcement came hours after Trump denied there was chaos in the White House. Trump maintained that his White House has "tremendous energy," but multiple White House officials said Trump has been urging anxious aides to stay.
"Everyone wants to work in the White House," Trump said during a joint press conference with Swedish Prime Minister Stefan Löfven. "They all want a piece of the Oval Office."
In a statement, Cohn said it was his honor to serve in the administration and "enact pro-growth economic policies to benefit the American people."
Trump praised Cohn despite the disagreement on trade, issuing a statement saying Cohn has "served his country with great distinction."
Cohn is a former Goldman Sachs executive who joined the White House after departing the Wall Street firm with a $285 million payout. He played a pivotal role in helping Trump enact a sweeping tax overhaul, coordinating with members of Congress.
Cohn's departure is a blow to Capitol Hill Republicans and business groups who were hoping Trump might listen to their worries on tariffs — and that Cohn would serve as a moderating force as the administration pushes a renegotiation of the North American Free Trade Agreement. Earlier Tuesday, House Speaker Paul Ryan had said talks with the White House were "ongoing" and he was "encouraged" that the White House would adjust course.
"I hate to see Gary go," Senate Majority Leader Mitch McConnell told The Associated Press.
Sen. Pat Toomey, R-Pa., who is trying to persuade the administration to target the steel and aluminum tariffs as narrowly as possible, acknowledged his side of the argument was increasingly outnumbered in the administration.
"I'm sorry to see him go," Toomey said, calling Cohn "a very important voice in encouraging free trade."
Josh Bolten, the President and CEO of the Business Roundtable, which opposes the coming tariffs, called Cohn's exit "a real loss for President Trump and the American people."
Trump loved to boast about the former executive's wealth, but Cohn's tenure in the White House was rocky. Cohn nearly departed the administration last summer after he was upset by the president's comments about the racial violence in Charlottesville, Va. Cohn, who is Jewish, wrote a letter of resignation but never submitted it.
"Citizens standing up for equality and freedom can never be equated with white supremacists, neo-Nazis, and the KKK," Cohn told The Financial Times at the time. "I believe this administration can and must do better in consistently and unequivocally condemning these groups and do everything we can to heal the deep divisions that exist in our communities."