Trump and Kim shake hands in scene complex as their rivalry
Foster Klug, Associated Press | 6/12/2018, 6:52 a.m.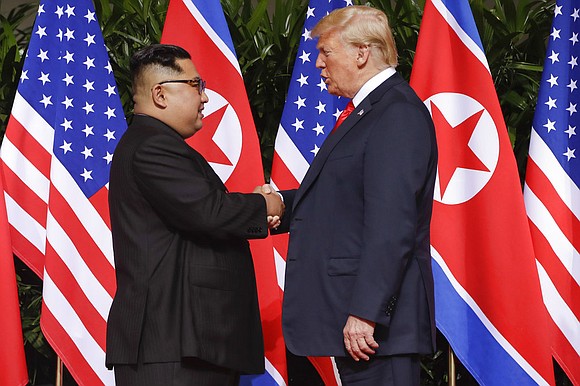 Shortly before the leaders met, Moon's chief of staff wrote on Facebook that the summit reminded him of his child's birth.
"I remember hovering around the delivery room the day my daughter was born. I didn't care whether you were a boy or a girl. Just come out to the world healthy with a big cry," Im Jong-seok wrote, apparently wishing for a successful outcome from the meeting between Trump and Kim.
Critics, however, saw the handshake and Kim's earlier moonlight stroll as evidence Trump was helping to legitimize Kim as his equal on the world stage even though the North Korean regime has been accused of horrific rights abuses. During his stroll Monday along the glittering Singapore waterfront, crowds yelled Kim's name and jostled to take pictures, and the North Korean leader posed for a selfie with Singapore officials.
Last year Kim was "Little Rocket Man," according to Trump, and U.S. officials regularly mentioned his likely role in the assassination of his half-brother with nerve agent in a Malaysian airport, as well as his uncle's execution. Kim's image would now be bolstered, critics said.
Sue Mi Terry, a former CIA analyst, told MSNBC, "Kim Jong Un is prepared. He knows what he wants, which is to gain an ... international acceptance of North Korea as a nuclear weapons power. He thinks he's coming into this meeting from a position of strength because he has reached certain capability in his nuclear missile program. And he thinks he's going to now see what he can get out of the United States."
Adam Mount, a U.S. defense analyst, expressed anger about seeing the U.S. and North Korean flags side by side.
"We should be working diligently to transform North Korea and our relationship with it," he tweeted. "But until that day, it's abhorrent to see a flag that stands for so much suffering and cruelty standing with ours." -- (AP)