Dub Dynasty: Warriors sweep Cavs for second straight title
Tom Withers, AP Sports Writer | 6/9/2018, 12:20 a.m.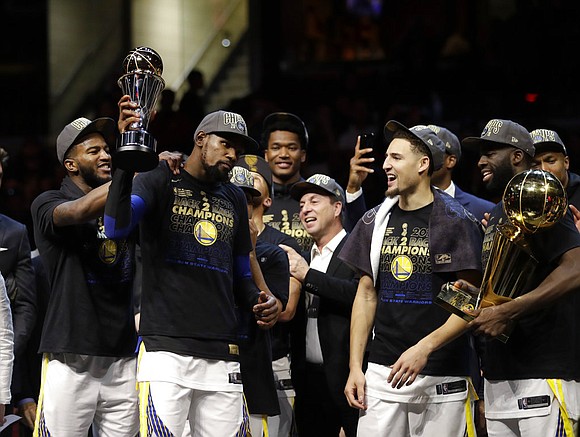 It may have been the final game in Cleveland for the 33-year-old, who is expected to opt out of his $35.6 million contract for 2019 next month and become a free agent.
James was pulled from the game with 4:03 left, and he slapped hands with the Warriors before heading to the bench. He plopped down in a chair and draped a towel over his broad shoulders, looking like a boxer on a corner stool.
James averaged 34 points, 8.5 rebounds and 10 assists in the series, but as has been the case in the past, he didn't have enough help.
Another Summer of LeBron is officially underway and there are already teams stretching from Philadelphia to Los Angeles hoping to land the three-time champion, who may have to go elsewhere to put together a cast strong enough — and as James made clear this week, smart enough — to bring down the Warriors.
Right now, the Warriors are on another tier and with Durant expected to re-sign with them in weeks and Curry, Thompson, Green and the rest still young and hungry, their reign could last much longer.
Heading into the playoffs, the Warriors appeared vulnerable. There were lingering questions about Curry's sprained left knee that sidelined him for almost six weeks and kept him out of Golden State's first-round series against San Antonio.
Kerr was forced to mix and match lineups, and it became obvious the Warriors weren't going to go 16-1 and storm their way to a title like they did in 2017, when their only postseason loss came in Game 4 after the Cavs made 24 3-pointers.
Kerr used 27 different starting lineups during the regular season, which ended with a head-scratching 40-point loss to Utah. The Warriors began defense of their title as a No. 2 seed and their season was in serious jeopardy when they fell behind 3-2 to presumptive MVP James Harden and the Rockets. But Golden State, catching a break when Houston star guard Chris Paul was forced to sit with a hamstring injury, showed a champion's poise by winning two straight.
That set up another reunion with James and the Cavs.
Maybe the last.
TIP-INS
Warriors: Curry made a 3-pointer in his record 90th consecutive postseason game and extended his mark for 3s in road playoff games to 44. . Green is the only visiting player to post a triple-double in the playoffs at Quicken Loans Arena, doing so in Game 6 of the 2015 finals. . Became the ninth team to sweep a finals and first to win consecutive titles since James did it with Miami in 2012 and 2013. ... Golden State has won a road game in 19 straight playoff series, tying the Heat's NBA record. ... With his 43-point performance in Game 3, Durant joined Jordan and Shaquille O'Neal as the only players to score at least 25 points in their first 13 finals games.
Cavaliers: Appeared in its 26th NBA Finals game, moving past Atlanta/St. Louis into 10th place all-time. ... James averaged 34 points in his 13th postseason, his second-highest total.
BROWN OUT
Longtime network broadcaster Hubie Brown injured his knee while sitting courtside preparing before the game. He was treated by a medical staff on site and taken to the hospital. The 84-year-old Brown was replaced on the radio broadcast by Jon Barry.
Brown was working his 17th NBA Finals. -- (AP)