Woman thanks Trump for 'mercy' in commuting her sentence
Adrian Sainz and Jill Colvin, Associated Press | 6/8/2018, 7:11 a.m.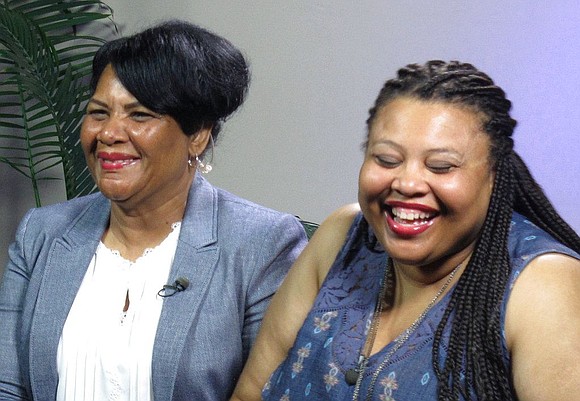 MEMPHIS, Tenn. — A woman whose life sentence was commuted by President Donald Trump thanked him on Thursday for "having mercy" and said reality TV star Kim Kardashian West saved her life.
After flexing his clemency powers once again, Trump tweeted: "Good luck to Alice Johnson. Have a wonderful life!"
And "BEST NEWS EVER!!!!" was the exuberant Twitter response from Kardashian West, who visited the White House last week to press the case.
Johnson, 63, spent more than two decades serving life without parole. She was released hours after the White House announced that Trump had commuted her sentence, running to greet her family with her arms opened wide for a group hug outside the federal prison in Aliceville, Alabama.
On Thursday morning, she saw her first sunrise in years at home in Memphis, Tennessee.
"I'd like to say, President Trump, thank you for having mercy upon me. Thank you for taking the time to look at my case, and feel like I deserve a second chance in life. I promise I will not let you down," Johnson said in an Associated Press interview.
As for Kardashian West, Johnson said, "Kim, I love you. Thank you. You have literally saved my life. I'll never forget what you have done, not only for me, but for my family."
Johnson has a job lined up as an administrative assistant in a dental office, but she said she'll keep pushing for sentencing reform for nonviolent first-time offenders who don't pose a threat to their communities.
Unlike a pardon, the commutation will not erase Johnson's conviction, only end her sentence.
Trump's decision, his latest inspired by a celebrity champion, comes amid a flurry of recent pardons he's issued. He says he's considering a long list of other clemency actions, including former Illinois Gov. Rod Blagojevich, who is serving 14 years in prison for corruption, and celebrity homemaker Martha Stewart, who served about five months on charges connected to an insider trading case.
Working outside the pardon process usually overseen by the Justice Department, Trump has appeared to favor cases championed by friends, celebrities or conservative media, or involve people he sees as rivals. Trump also has been drawn to cases in which he believes prosecutors may have been motivated by politics — situations that may remind him of his own predicament at the center of special counsel Robert Mueller's investigation into Russian election meddling.
Trump recently pardoned conservative commentator Dinesh D'Souza, who was convicted of a campaign finance violation. And he granted a posthumous pardon to boxing's first black heavyweight champion, a case championed by actor Sylvester Stallone. The federal prosecutor who oversaw Stewart's case in New York was James Comey, one of Trump's principal antagonists, and the man he fired as FBI director last year.
Some have seen the pardons as sending a message to former campaign aides now ensnared in the Mueller probe or other legal inquiries, including Trump's longtime lawyer and legal "fixer" Michael Cohen, whose finances are under federal investigation.