Bryan Colangelo resigns as 76ers president
Rob Maaddi, AP Sports Writer | 6/8/2018, 7:08 a.m.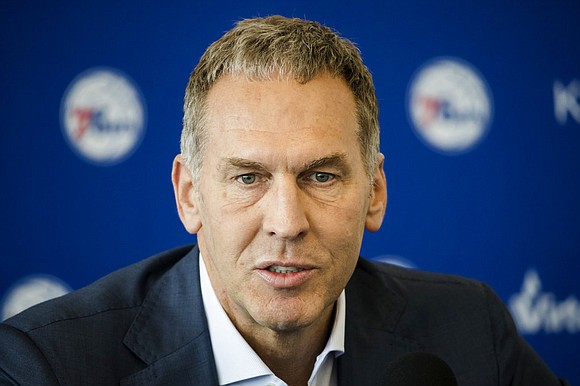 It's a stunning fall for Colangelo, a former two-time Executive of the Year who was expected to lead the improving 76ers into an important summer when they are hoping to pursue LeBron James or another All-Star player to add to a young core that includes Embiid and Ben Simmons.
Instead that role will be led for now by coach Brett Brown. The 76ers said he would oversee basketball operations on an interim basis and that the search for a new general manager would begin immediately.
"You never want to see someone's job end through an unfortunate circumstance like this. I certainly understand from the 76ers' standpoint that that bond has been broken," NBA Commissioner Adam Silver said. "It's not even necessary to assign fault, just the reality of where they all find themselves. I think Bryan recognizes like that as well, that these teams are like families and it can get to a point where it becomes dysfunctional and I think that's where they found themselves right now."
Colangelo, the son of longtime sports executive Jerry Colangelo, was hired as president of basketball operations in 2016 after Hinkie abruptly resigned. Hinkie was the architect behind what has been called "The Process" — the long-term tearing down and rebuilding of the Sixers.
Colangelo previously served as Raptors general manager, adding the 2007 Executive of the Year award to the one he won two years earlier in Phoenix. But he lost his job there after Toronto missed the playoffs for the fifth consecutive season, and Ujiri took over basketball operations.
"Over the last two years, I have worked hard to help build a foundation for what I hope will soon be many championship seasons for the 76ers," Colangelo said. "I am grateful to team owners Josh Harris and David Blitzer for the opportunity they gave me to be part of such a great organization. I am saddened to have to leave under these circumstances." -- (AP)