US employers keep on hiring despite growing trade concerns
Christopher Rugaber, AP Economics Writer | 6/4/2018, 6 a.m.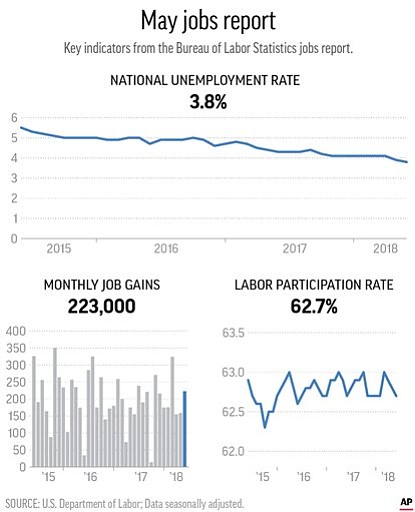 But the unrounded figure is 3.75 percent, the lowest since December 1969, when it was 3.5 percent. Unemployment remained below 4 percent for nearly four straight years in the late 1960s before reaching 6.1 percent during a mild recession in 1970. It didn't fall below 4 percent again until the dot-com-fueled boom of the late 1990s.
With the unemployment rate so low, businesses have complained for months that they are struggling to find enough qualified workers. But Friday's jobs report suggests that they are taking chances with pockets of the unemployed and underemployed whom they had previously ignored.
Unemployment among high school graduates fell sharply to 3.9 percent, a 17-year low. For black Americans, it hit a record low of 5.9 percent.
And the number of part-time workers who would prefer full-time jobs is down 6 percent from a year ago. That means businesses are converting some part-timers to full-time work.
Companies are also hiring the long-term unemployed — those who have been out of work for six months or longer. Their ranks have fallen by nearly one-third in the past year.
That's important because economists worry that people who are out of work for long periods can see their skills erode.
Those trends suggest that companies, for all their complaints, are still able to hire without significantly boosting wages. Average hourly pay rose 2.7 percent in May from a year earlier, below the 3.5 percent to 4 percent pace that occurred the last time unemployment was this low.
And there may be more of those workers available. The number of involuntary part-time workers is still higher than it was before the 2008-09 recession.
Martha Gimbel, director of economic research at Indeed, the job-listing site, said some of the fastest-growing search terms on the site this year are "full-time" and "9-to-5 jobs," evidence that many people want more work hours.
"That suggests there is still this pool of workers that employers can tap without raising wages," Gimbel said.
Debbie Thomas, owner of Thomas Hill Organics, a restaurant in Paso Robles, California, said that finding qualified people to hire is her biggest challenge. She has raised pay by about a dollar an hour in the past year for cooks and dishwashers but is reluctant to go much higher.
"You don't want to price yourself out of the market," Thomas said.
The report comes amid other signs that the economy is picking up. Consumer spending rose in April at its fastest pace in five months. And companies are also stepping up spending, buying more industrial machinery, computers and software — signs that they're optimistic enough to expand. A measure of business investment rose in the first quarter by the most in 3½ years.
Macroeconomic Advisers, a forecasting firm, said it now foresees the economy expanding at a robust 4.1 percent annual pace in the April-June quarter, which would be the fastest in nearly four years. The economy expanded just 2.2 percent in the first quarter. -- (AP)