US employers keep on hiring despite growing trade concerns
Christopher Rugaber, AP Economics Writer | 6/4/2018, 6 a.m.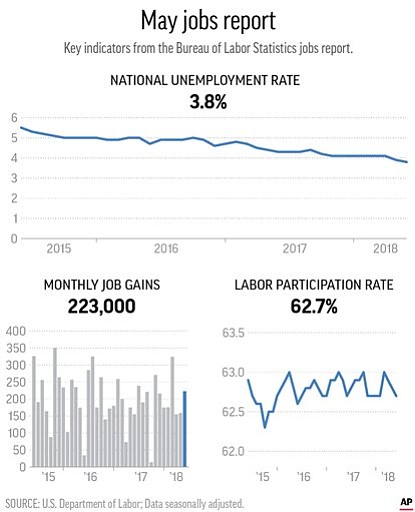 WASHINGTON — Defying fears of a global trade war, U.S. businesses have made it abundantly clear that they see no reason to stop hiring.
Employers added a robust 233,000 jobs in May, up from 159,000 in April, the government said Friday, and helped drive the nation's unemployment rate to an 18-year low of 3.8 percent.
In the midst of all that hiring, the Trump administration has slapped tariffs on steel and aluminum from Europe, Mexico and Canada. The White House is also threatening China with separate duties. And Europe, Mexico, Canada and China have vowed to hit back at U.S. goods.
Yet so far, the trade disputes have done nothing to knock the nearly 9-year-old economic expansion — the second-longest on record — off track. Hiring has actually picked up this year compared with 2017.
"The May jobs report revealed impressive strength and breadth in U.S. job creation that blew away most economists' expectations," said Scott Anderson, chief economist at Bank of the West.
Some economists do remain concerned that the Trump administration's aggressive actions on trade could eventually hamper growth. The direct impact of the tariffs on the nearly $20 billion U.S. economy will likely be scant. But persistent uncertainty about which trading partners might be hit next — and which U.S. products might be penalized in retaliatory moves — could disrupt some companies' expansion plans.
"Risks are brewing ... with the latest round of tariffs on aluminum and steel," said Joseph Song, an economist at Bank of America Merrill Lynch. "However, the concerns so far remain on the periphery."
Should the trade fights worsen, they would most likely affect some of the same industries that have ramped up hiring and lifted the economy. Manufacturers, for example, have added 259,000 jobs in the past year, a 2.1 percent increase. That's the biggest percentage gain in factory jobs since 1995.
Exports have been a big driver of that hiring. In 2017, simultaneous growth in Europe, China, Japan, and some developing countries were a key reason that factory output rose. Now, European officials are threatening to raise tariffs on Harley-Davidson motorcycles and on Levi's jeans.
Roughly an hour before the May employment data was released Friday morning, President Donald Trump appeared to hint on Twitter that a strong jobs report was coming.
"Looking forward to seeing the employment numbers at 8:30 this morning," he tweeted.
The president is normally briefed on the monthly jobs report the day before it is released, and he and other administration officials are not supposed to comment on it beforehand.
Larry Kudlow, the president's top economic adviser, downplayed Trump's tweet.
"He didn't give any numbers," Kudlow said. "No one revealed the numbers to the public."
Investors cheered the jobs data. The Dow Jones industrial average finished up 219 points. Other stock indexes also rose.
The healthy employment figures make it more likely that the Federal Reserve will keep raising interest rates this year — two and possibly three more times, after doing so in March.
Unemployment dropped from 3.9 percent in April. When rounded to one decimal, as the Labor Department typically does, the official jobless rate is now the lowest since April 2000. For women, unemployment has fallen to 3.6 percent, the lowest since 1953.