US unemployment falls to nearly 1969 levels; hiring solid
Christopher Rugaber, AP Economics Writer | 6/1/2018, 5:51 p.m.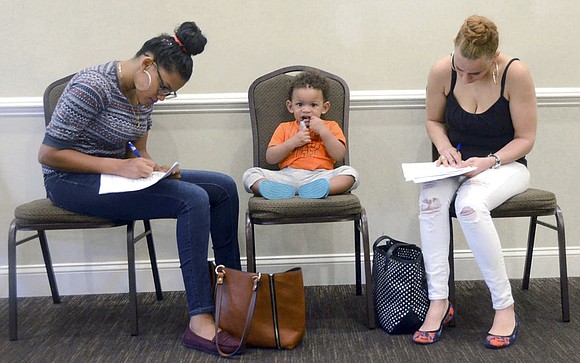 WASHINGTON — Another month of strong hiring drove the nation's unemployment rate down to 3.8 percent — tantalizingly close to the level last seen in 1969, when Detroit still dominated the auto industry and the Vietnam War was raging.
Employers added 233,000 jobs in May, up from 159,000 in April, the Labor Department reported Friday. And unemployment fell to an 18-year low.
The report shows that the nearly 9-year-old economic expansion — the second-longest on record — remains on track and may even be gaining steam. Employers appear to be shrugging off recent concerns about global trade disputes.
"The May jobs report revealed impressive strength and breadth in U.S. job creation that blew away most economists' expectations," said Scott Anderson, chief economist at Bank of the West.
With the unemployment rate so low, businesses have complained for months that they are struggling to find enough qualified workers. But Friday's jobs report suggests that they are taking chances with pockets of the unemployed and underemployed whom they had previously ignored.
Roughly an hour before the employment data was released, President Donald Trump appeared to hint on Twitter that a strong jobs report was coming. "Looking forward to seeing the employment numbers at 8:30 this morning," he tweeted.
The president is normally briefed on the monthly jobs report the day before it is released, and he and other administration officials are not supposed to comment on it beforehand.
Larry Kudlow, the president's top economic adviser, downplayed Trump's tweet.
"He didn't give any numbers," Kudlow said. "No one revealed the numbers to the public."
Investors welcomed the report. The Dow Jones industrial average rose 219 points Friday, or 0.9 percent. Other indexes also moved higher.
The healthy jobs data makes it more likely that the Federal Reserve will keep raising interest rates this year — two and possibly three more times, after doing so in March.
Unemployment dropped from 3.9 percent in April. When rounded to one decimal, as the Labor Department typically does, the official jobless rate is now the lowest since April 2000.
But the unrounded figure is 3.75 percent, the lowest since December 1969. Unemployment remained below 4 percent for nearly four straight years in the late 1960s, but it rose to 6.1 percent during a mild recession in 1970. It didn't fall below 4 percent again until the dot-com-fueled boom of the late 1990s.
Businesses desperate to hire are reaching deep into pools of the unemployed to find workers. Unemployment among high school graduates fell sharply to 3.9 percent, a 17-year low. For black Americans, it hit a record low of 5.9 percent. The unemployment rate for women dropped to 3.6 percent, the lowest since 1953.
And the number of part-time workers who would prefer full-time jobs is down 6 percent from a year ago. That means businesses are converting some part-timers to full-time work.
Companies are also hiring the long-term unemployed — those who have been out of work for six months or longer. Their ranks have fallen by nearly one-third in the past year.