Jill Scott returns to TV in 'Black Lightning'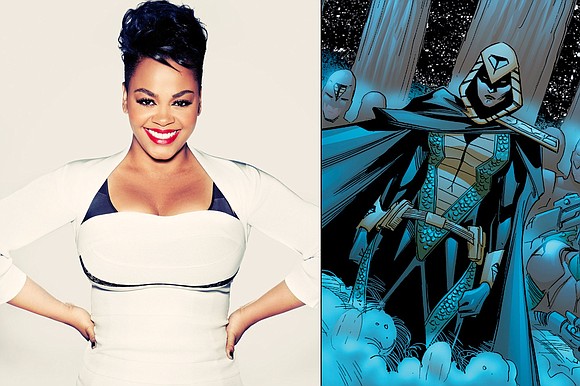 Jill Scott is returning to the small screen. The Grammy Award-winning singer will make her debut on the new CW hit "Black Lightning" on Jan. 30 as the diabolical villainess Lady eve.
Lady Eve, who presents herself as a respectable owner of a funeral home, will be the bridge between Freeland crime boss Tobias Whale (Marvin "Krondon" Jones III) and a secret group of corrupt leaders. This puts her in the crosshairs of Black Lightning, a.k.a Jefferson Pierce (Cress Williams), who has come out of a nine-year retirement to fight a new menace, a violent gang called The One Hundred, led by Whale.
"Jill is an amazing artist who can embody any character and give them an authentic voice that is both nuanced and richly complex," "Black Lightning" showrunner and executive producer Salim Akil told Variety. "I am excited to see her in the role of Lady Eve."
Lady Eve made her first appearance in the 1985 DC comic "Batman and the Outsiders #24." She was a high-ranking terrorist and was the right-hand woman to the terrorist Kobra and his Kobra Cult.
In an interview with USA Today, Scott gleefully described Lady Eve as "vile." It's so much fun to play someone who has literally no filter and all the power in the world — very Trumpish. … I grew up reading comic books all my life. ... It's kind of a dream come true to be in something that has an African-American cast as superheroes with powers and villains. The fact that I get to be diabolical and do no harm in real life is just thrilling."
Scott, who has appeared on Broadway in "Rent," made her television debut in "Girlfriends," and had her big screen breakthrough in Tyler Perry's "Why Did I Get Married." She also starred in HBO's "The No. 1 Ladies' Detective Agency" and appeared on BET's "Being Mary Jane" and in "Steel Magnolias" on Lifetime.
Follow me on Twitter @ShondaMcClain