Bruno Mars crashes rap's big party at the Grammys
David Bauder, AP Media Writer | 1/29/2018, 6:59 a.m.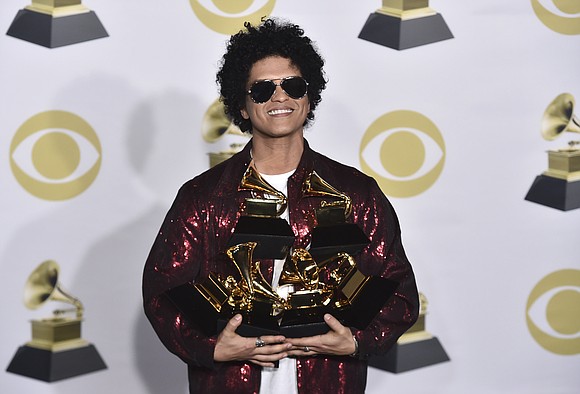 Kesha was joined by Cyndi Lauper, Camila Cabello, Julia Michaels, Andra Day and others in a performance of her Grammy-nominated song "Praying," which is about fighting back from abuse. Singer Janelle Monae introduced Kesha and tied the appearance to the current flood of women speaking up about sexual misconduct. Dozens of artists and music industry players also sported white roses in support of the Time's Up and #MeToo movements against sexual abuse and harassment.
"We come in peace but we mean business. To those who would dare try to silence us, we offer two words: Time's Up," Monae said. "It's not just going on in Hollywood. It's not just going on in Washington. It's here in our industry, too."
The show also featured a somber performance of Eric Clapton's "Tears in Heaven" by country artists Maren, Eric Church and the Osborne Brothers. All were on the bill for the Las Vegas show in October that was torn apart by a mass shooter.
Social media was curious about the seeming snub of album of the year nominee Lorde. She wasn't among the night's performers, even as classic rockers Sting and U2 made multiple appearances.
"It's hard to have a balanced show and have everybody involved," producer Ken Ehrlich said backstage. "Every year's different. We can't have a performance from every nominee."
The Grammys were also a clear example of rock 'n' roll's decline as a creative force. No rock awards were given during the televised portion of the Grammys. Sting sang a 30-year-old hit and the majority of rock's references were about artists who had died like Chuck Berry, Fats Domino and Tom Petty.
The Rolling Stones, once judged rock's kingpins, won the third Grammy of their career — for best traditional blues recording.
Alessia Cara won the Grammy for best new artist, and remembered the time when she would "win" Grammys in her dreams while singing in the shower.
Chris Stapleton won three Grammys in country categories. Other multiple winners included Ed Sheeran, CeCe Winans, Justin Hurwitz and Jason Isbell.
The late Leonard Cohen won a Grammy for his performance of "You Want it Darker." Actress Carrie Fisher and sound engineer Tom Coyne were other posthumous winners.
As it has in recent years, the Grammys downplayed the awards for performances by the industry's biggest stars. Highlights included Mars and Cardi B dueting on "Finesse"; Rihanna, DJ Khaled and Bryson Tiller on "Wild Thoughts"; and Patti Lupone's Broadway classic "Don't Cry For Me Argentina." -- (AP)