NJ dreamers on edge as the future of DACA remains uncertain
Monsy Alvarado, The Daily Record | 1/21/2018, 8:05 a.m.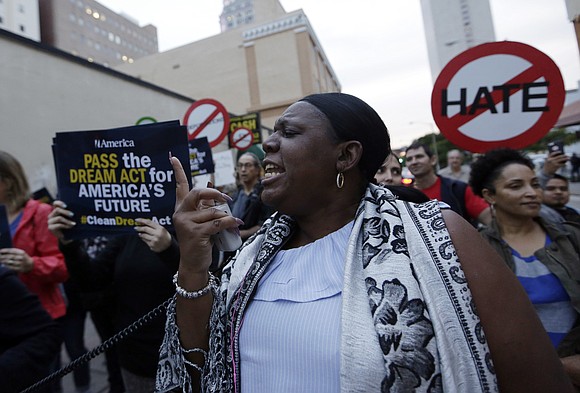 MORRISTOWN, N.J. — Thais Marques of Newark says she is anxious to file paperwork to extend her temporary protection from deportation for two years, even though her work permit doesn't expire until October.
Similarly, Cinthia Osorio of Dover plans to submit her renewal application next month, before her deportation deferral expires in August. But Monserrath Campos of Paterson, whose protections under the Deferred Action for Childhood Arrivals, or DACA, program are good until September, plans to wait before sending her application. She worries that it might be rejected for being submitted too early and that she would forfeit the $495 application fee.
The divergent approaches reflect the state of confusion over the shifting status of DACA, which was created in 2012 by President Barack Obama and so far has granted work permits and protection from deportation to nearly 800,000 young immigrants, known as "Dreamers," who were brought to the United States as children.
Immigration attorneys like Darren Maloney of Paterson and Jerard Gonzalez of Hackensack have been reaching out to clients whose DACA protections have expired or will expire in the coming months, urging them to submit their renewal applications as soon as possible. They say they are worried that the window to renew will be narrow and that developments in Washington on Friday, or in the federal court system, could leave their clients at risk of deportation.
"We are sort of numb. We don't know how to react," said Gonzalez, a former chairman of the New Jersey chapter of the American Immigration Lawyers Association. "They are given something, then it's taken away and then they get it back. We could only tell people to follow the law as it is today."
The seeds for the current state of confusion over DACA were sown in September, when President Donald Trump announced that he was ending the program but would allow those whose protections were to expire by March 5 to renew them for a final two years. The state of California sued the administration, and on Jan. 9, a federal judge in San Francisco issued a nationwide injunction ordering the Trump administration to keep the program running while the legal challenge proceeds.
U.S. Citizenship and Immigration Services resumed processing renewal applications on Tuesday. Later that day, the administration filed an appeal and announced its intention to petition the Supreme Court to review the case.
Meanwhile, the fate of the Dreamers is at the center of a partisan dispute on Capitol Hill, where Democrats have made a deal protecting the Dreamers from deportation a condition of their support for a short-term deal to fund the federal government through mid-February. The House and Senate must pass a spending bill by Friday to avert a government shutdown.
On Jan. 9, Trump said he would sign a "bill of love" that protected the Dreamers, but negotiations suffered a setback two days later when the president reportedly disparaged African nations as "shithole countries" in a White House meeting with a bipartisan group of senators.
On Sunday, Trump declared on Twitter that DACA was "probably dead."