Cress Williams plays CW's first black superhero Black Lightning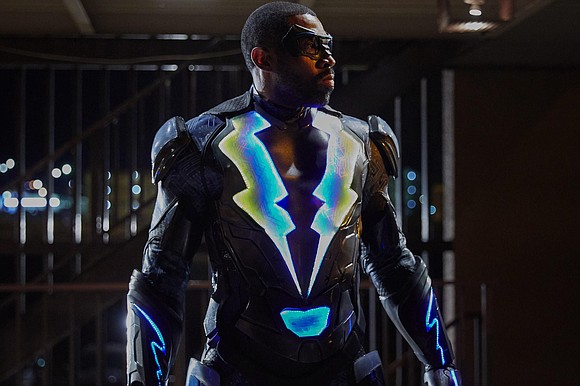 The CW is introducing its first African-American superhero and he is fully charged and ready to strike. "Black Lightning" makes its electrifying debut on Jan. 16.
The show stars Cress Williams as Jefferson Pierce, a high school principal who has retired from his crime fighting days as the superhero Black Lightning, a meta human who can harness the power of electricity – or at least, that is what he thought.
More than a decade after hanging up his superhero suit, Black Lightning is drawn back into action to protect his daughters, who are also exhibiting powers of their own, Anissa (Nafessa Williams) and Jennifer (China Anne McClain) from a nefarious gang, The One Hundred. The show also stars Christine Adams as Pierce's ex-wife Lynn.
The gravity of playing television's first Black superhero is not lost on Williams.
"I was so emotional, because to see it really happening…. I mean, it's historical in every sense of the word," Williams told TVLine. "It's historical for the network having a black-led show for the first time in its history. It's historical because of the network's first black superhero. It's historical because there hasn't been a ton of African-American family dramas. There's a ton of comedies, but there hasn't been a ton of dramas."
"Black Lightning" is produced by industry veterans Salim Akil and Mara Brock Akil, the team behind "The Game" and "Being Mary Jane." When he decided to bring "Black Lightning" to CW, Salim said he wanted to bring "real, grounded stories and to open viewers' minds and hearts to a community with which they may not be familiar."
"This is a result of our history," he told The Hollywood Reporter. "We're what, one generation up out of Jim Crow? I think that people in America unfortunately or fortunately are just discovering different aspects of the humanity of African-American people. And so I think with that discovery comes, 'Oh, you could be a superhero, you could be president, or whatever it is that we thought you couldn't be.' Not too long ago, people didn't think that African-American men could be a quarterback in the NFL or coaches in the NBA. We laugh at that now but that's a result of the continuation of the discovery of the humanity of African Americans."
The show will also feature television's first gay superhero. Black Lightning's eldest daughter, Anissa, discovers she has the power of super human strength and takes on the mantle of Thunder. She is also a proud lesbian.
Akil is excited to bring her character and storyline to primetime.
"I didn't want it to be a 'very special episode,'" he told The Hollywood Reporter. "We just open up on her in bed with her girlfriend and having a discussion not about her sexuality but about what are you going through? How are you feeling? I think it's one of the most sophisticated and loving scenes we've done in this show."
"Black Lightning" makes history and its CW debut on Jan. 16 at 9 p.m. on the CW.
Follow me on Twitter @ShondaMcClain.