Camden home where King stayed under state review
Samaria Bailey | 1/16/2018, 6:47 a.m.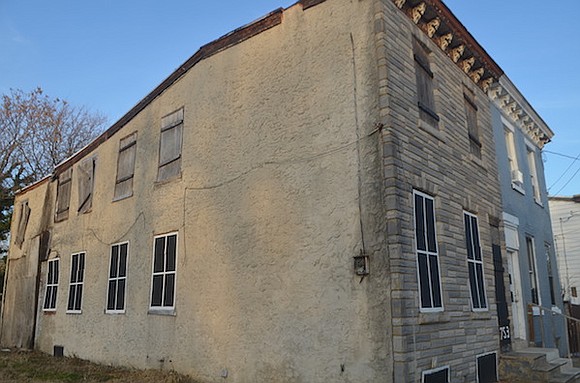 A Camden home where Martin Luther King, Jr. was documented as living when he attended Crozer Theological Seminary, is under review by the New Jersey Department of Environmental Protection's (NJDEP) State Historic Preservation Office to become a historic site.
NJDEP Public Information Officer Caryn Shinske said the application for the home, located at 753 Walnut Street, "has been under review for some time", and that the office cannot provide a definite date as to when the review will be completed.
"There is no time frame for how long this particular application will be under study. The time frame to evaluate any application varies widely depending on a multitude of factors. Applications must have nuanced research, clear evidence and crucial context. In the case of this application, DEP's Historic Preservation Office is doing a very careful and thorough examination of Martin Luther King, Jr.'s association with 753 Walnut Street," said Shinske. "To that end, DEP spent $20,000 to commission a study by Stockton University to determine a possible link between Martin Luther King Jr. and this particular property. DEP has never before commissioned such a study, and did so to have as much information as possible. Stockton recently submitted its report and it is under review by our Historic Preservation Office."
Shinske confirmed that Camden resident Jeanette Lilly Hunt is still the property owner of 753 Walnut Street and that even with a designation, any future decisions about what happens to it, is up to Hunt.
"Property maintenance and upkeep, as well as any decisions about the future of the property, and what, if anything, is to become of it, is up to the property owner," said Shinske. "It is the property owner's responsibility. A designation of any kind does not change that. Mrs. Hunt owns the property."
Hunt was contacted three times to interview for this article and declined. But, Colandus (Kelly) Francis, Vice President of the original Camden County branch of the NAACP, said she has "entrusted" him with some of the upkeep and addressing other matters.
"We had a roof [installed]. Yes, I financed it. Mrs. Hunt was in negotiations with Cooper's Ferry because they are a nonprofit. This was last year. They haven't done anything at all," said Francis. "We discovered there was a leak in the roof and with winter coming, we don't want further deterioration. It's been vacant for over 20 years, boarded up and Mrs. Hunt has been paying the taxes."
Francis added that pending the state historic designation decision, Hunt wants to "turn it over to the state [and] they can preserve it."
In the meantime, as Chairman of the Board of Directors for the Fair Share Housing Center - a civil rights nonprofit that enforces fair housing practices - Francis said he informed Mrs. Hunt, that the organization is "willing to proceed with the restoration...with her permission."
For Francis, maintenance and continued preservation of the home is vital to the city's history, especially the Black community.
"African-Americans have over 300 years of history in Camden. We were slaves on the Cooper Family Plantation," he said. "There are about 93 historical sites all named for Europeans but there's only one for African-Americans- Macedonia AME Church- it was a stop on the Underground Railroad. There aren't any [others] that indicate excellence in the African-American community."