Trump pans Haiti, African countries with vulgarity
Associated Press | 1/12/2018, 7:05 a.m.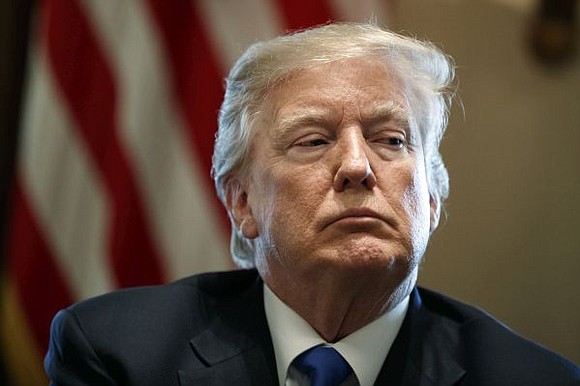 Trump has called himself the "least racist person that you've ever met."
The sources spoke on condition of anonymity because they weren't authorized to publicly describe the conversation. One said lawmakers in the room were taken aback by Trump's remarks.
The Trump administration announced late last year that it would end a temporary residency permit program that allowed nearly 60,000 citizens from Haiti to live and work in the United States following a devastating 2010 earthquake.
Trump has spoken positively about Haitians in public. During a 2016 campaign event in Miami, he said "the Haitian people deserve better" and told the audience of Haitian-Americans he wanted to "be your greatest champion, and I will be your champion."
The agreement that Durbin and Sen. Lindsey Graham, R-S.C., described to Trump also includes his $1.6 billion request for a first installment on his long-sought border wall, aides familiar with the agreement said. They required anonymity because the agreement is not yet public.
Trump's request covers 74 miles of border wall as part of a 10-year, $18 billion proposal.
Democrats had long vowed they wouldn't fund the wall but are accepting the opening request as part of a broader plan that protects from deportation about 800,000 "Dreamers." The deal also would include restrictions on a program allowing immigrants to bring some relatives to the U.S.
In an afternoon of drama and confusing developments, four other GOP lawmakers — including hardliners on immigration — were also in Trump's office for Thursday's meeting, a development sources said Durbin and Graham did not expect. It was unclear why the four Republicans were there, and the session did not produce the results the two senators were hoping for.
"There has not been a deal reached yet," said White House spokeswoman Sarah Huckabee Sanders. But she added, "We feel like we're close."
Underscoring the hurdles facing the effort, other Republicans undercut the significance of the deal the half-dozen senators hoped to sell to Trump.
"How do six people bind the other 94 in the Senate? I don't get that," said No. 2 Senate Republican John Cornyn of Texas.
The six senators have been meeting for months to find a way to revive protections for the "Dreamers." Trump ended the Obama-era Deferred Action for Childhood Arrivals program last year but has given Congress until March 5 to find a way to keep it alive.
Federal agencies will run out of money and have to shut down if lawmakers don't pass legislation extending their financing by Jan. 19. Some Democrats are threatening to withhold their votes — which Republicans will need to push that legislation through Congress — unless an immigration accord is reached. -- (AP)