Black Panther movie causing excitement around country
Jesse J. Holland, Associated Press | 1/11/2018, 7:11 a.m.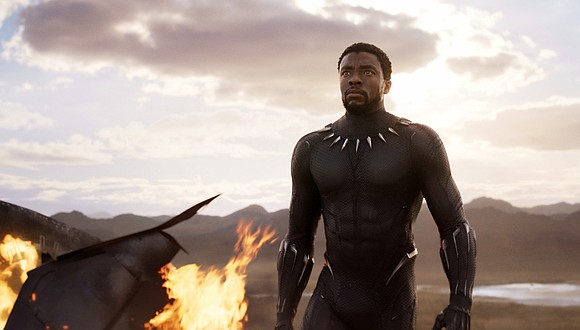 "Do we really have to wait until February!" lamented Elwood L. Robinson, chancellor of Winston-Salem State University in Winston-Salem, North Carolina, on Twitter while sporting a Black Panther T-shirt.
Groups like MALIK Fraternity Inc., the first collegiate fraternity founded on the concept of African fraternalism, in Charlotte, North Carolina and the Intentional Community Building Collective and Leaders of a Beautiful Struggle in Baltimore, are assembling discussion panels on the movie's themes.
Created by Stan Lee and Jack Kirby, the minds behind Spider-Man, the Fantastic Four and other Marvel comics, the Black Panther holds a unique position in comic book history. While not the first black comic book hero — the first black character to headline his own comic book was Dell Comics' Western hero and gunfighter Lobo in 1965 — the Black Panther is considered the first black superhero, introduced as a supporting character in Fantastic Four in 1966 and later featured in his own book.
There has been a renaissance with black superheroes on television as well. "Black Lightning" debuts on the CW on January 16 featuring an educator who gains electrical powers and becomes a superhero. "Luke Cage," a television show about a former convict with superhuman strength and unbreakable skin, premiered on Netflix in 2016 and will begin a second season later this year.
Cage debuted in a self-titled comic book "Luke Cage, Hero for Hire" in 1972 with an exaggerated Afro and a catchphrase "Sweet Christmas!" He was followed by Black Lightning in a DC comic book in 1977.
There have been other black superhero movies — Wesley Snipes starred as the vampire slayer Blade in one of the first Marvel movies, and Robert Townsend starred in a comedic parody of superheroes in "Meteor Man" — but their movies did not bring out the enthusiasm that the Black Panther is seeing.
"What is significant now, however, is that this age of convergence of film franchises with social media, a black superhero movie with an almost all-black cast conveys power, that we have arrived. It's evolution," said Christopher Chambers, a Georgetown University media studies professor.