Black Panther movie causing excitement around country
Jesse J. Holland, Associated Press | 1/11/2018, 7:11 a.m.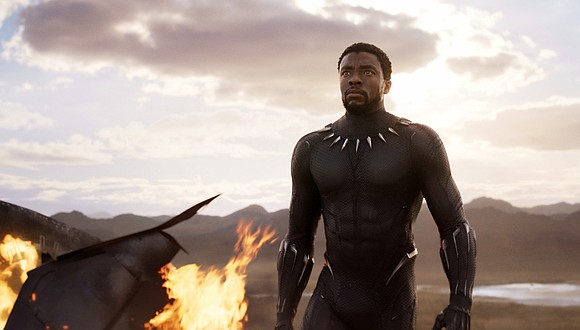 There's a Black Panther party going on all around the country.
Superhero fans, movie fans and especially connoisseurs of black culture — American and African — are eagerly awaiting the debut of Marvel's "Black Panther" movie starring comic books' first black superhero with an enthusiasm not often seen in American cinema.
"Black Panther" viewing parties are being scheduled around the country for its February release, smack dab in the middle of Black History Month. Clothing lines are being designed around the bright colors and Afrofuturism styles of Wakanda. And Grammy-winning rapper Kendrick Lamar was just named to produce the soundtrack.
And people are already calling the still-unseen movie one of the most important of 2018, despite the fact that the character that has only appeared once on the silver screen and until now, has not occupied the same pantheon as stalwarts like Superman, Batman and Spiderman.
But for some fans, none of that matters.
"As the father of two little black boys I'm super excited to have a superhero that looks like them on screen," said Glen Greezy of New York City, who plans to hit Times Square and see the movie on opening weekend along with more than 900 of his friends on Facebook.
"Other superheroes are great and I see their movies too, but something about having a black man as the main character in a superhero movie is extra appealing."
"Black Panther," starring Chadwick Boseman as the eponymous superhero, opens on February 16, picking up the adventures of the newly crowned African king and superhero who debuted in 2016's "Captain America: Civil War."
Existing in the same shared universe as Iron Man, the Hulk, Captain America and Spiderman, the Panther, however, the Black Panther's adventures center around his futuristic hidden homeland of Wakanda, considered to be the most technologically advanced nation on Marvel's earth. In the new movie, T'Challa, the Black Panther's real name, must battle long-time adversaries with the aid of his all-female bodyguards and a CIA agent to maintain control of his country and prevent a world war.
Directed by Ryan Coogler, it also has an all-star cast including Angela Bassett, Lupita Nyong'o, Michael B. Jordan, Forest Whitaker, Danai Gurira, Sterling K. Brown and more.
For many people, the Black Panther movie isn't just a movie; it's a symbol of change.
"'Black Panther' is just going to be really special. ... I don't plug into film anticipation. But I can feel it. A lot of my friends have asked me to go to the premiere! Everyone in my network is excited about it, and you can feel it when they're not," Daniel Kaluuya, the "Get Out" star who also is featured in "Black Panther," told The Associated Press recently.
The internet explodes each time a new trailer, poster or piece of artwork debuts from the movie, sparking hashtags like #BlackPantherSoLit and #WelcometoWakanda. Twitter declared that Black Panther was one of the most tweeted-about movies of 2017, and the only movie on the list that hadn't premiered yet.