Christie says he tackled problems no other politicians would
Michael Catalini, Associated Press | 1/10/2018, 6:29 a.m.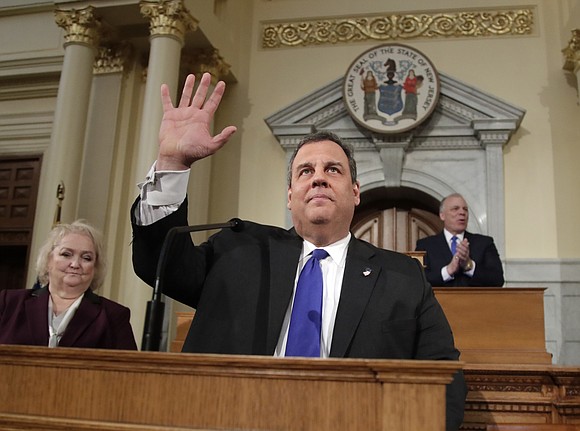 The speech was interrupted by applause several times. Among the longest and loudest cheers came for Lt. Gov. Kim Guadagno, who lost her bid to succeed Christie in 2017, and for Christie's family.
Christie's speech caps his stint as one of America's best-known governors.
He was on the cover of Time magazine under the headline "The Boss" and a periodic guest on late-night television, where he memorably appeared in a skit about "dad dancing" with Jimmy Fallon and poked fun at his weight by eating a doughnut on David Letterman's show.
At least in the beginning, he won acclaim for his forthrightness, like when he told beachcombers to "get the hell off the beach" in 2011 during Hurricane Irene. He told it like it was before Trump.
He also was exceedingly popular and widely praised for guiding the state in its recovery from Superstorm Sandy, which ravaged the coastline. He was briefly seen as a top GOP contender for president.
But he was also criticized for testy exchanges with the public during town hall meetings and other encounters.
His popularity and job approval fell sharply, particularly after the George Washington Bridge lane closure scandal in which three of his allies were convicted in a political retribution scheme. He also lost the home crowd after spending much of 2015 and early 2016 campaigning for president out of state, a contest he dropped out of after failing to emerge from the back of the pack.
He returned to New Jersey and focused on the state's — and country's — opioid addiction crisis after failing to get a top job in the Trump administration. A regular theme in his remarks around the state included "second chances," and the idea that people can make a comeback. -- (AP)