Christie says he tackled problems no other politicians would
Michael Catalini, Associated Press | 1/10/2018, 6:29 a.m.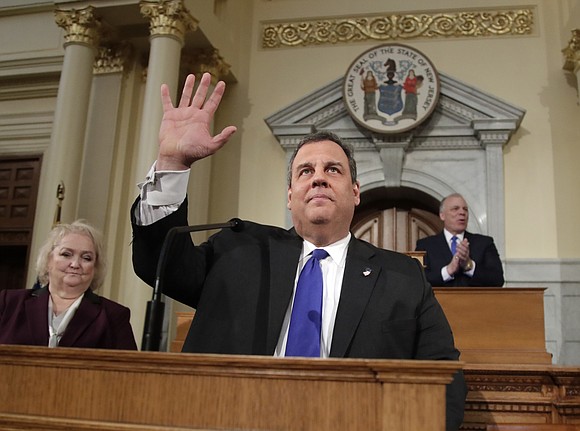 TRENTON, N.J. — Outgoing Gov. Chris Christie said Tuesday that New Jersey needed "tough and plain-spoken leadership" when he took office eight years ago and he delivered it, pulling the state from "the brink of financial ruin" by confronting problems leaders of both parties had ignored for decades.
"I ran to be different. I ran to talk bluntly. I ran to shine lights on all of New Jersey's real problems," the Republican governor said in his last state of the state address to the Legislature.
The speech came as Christie wraps up eight years as one of his party's shining stars who faded after a failed presidential run and a political scandal left his approval rating in tatters. He hands over state government to Democrat Phil Murphy in a week.
Murphy criticized Christie saying costs have risen for residents and that he was inheriting a state in "fiscal crisis." Democrats who control the Legislature were largely conciliatory toward Christie, saying he was going out with "grace and elegance."
Christie used the speech to cite a lengthy list of accomplishments during his two terms and to issue a warning that some could come undone.
He touted the halving of the unemployment rate — to about 5 percent — and a sharp drop-off of increases in state property taxes, the nation's highest. But he warned they could soar again if the Democratic-controlled Legislature and governor don't extend a cap on salary awards to police and firefighters when contract disputes go to arbitration.
The governor said he was the first in America to try to tackle the huge and escalating burden of state pension costs, saying previous governors from both parties and Legislatures "virtually ignored the growing menace of increased costs and no real contributions." Among the steps taken during his administration was dedicating lottery proceeds to the pension system for the next 30 years.
When he took office, Christie said, New Jersey was "on the brink of financial ruin as a state."
"We needed tough and plain-spoken leadership to deal with these problems," he said.
He said he vetoed more than $7 billion in spending, helped cut the state workforce, pushed through a cap on property tax increases and, at the same time, made sure the state invested heavily to help protect the Jersey shore from the kind of devastation it suffered during Superstorm Sandy in 2012. He said his handling of the storm was his proudest moment in office.
Christie didn't invoke the name of his friend, President Donald Trump. But he called it an "honor" to chair the White House's opioid commission.
While he credited his administration and legislative Democrats for achieving an eight-year, $16 billion transportation funding program that also included sales and estate tax cuts, he made no mention of the nearly quarter-per-gallon increase in the gas tax that accompanied it. He also didn't mention his decision to cancel a rail tunnel project into New York that critics have faulted him for and did not discuss New Jersey Transit, which has come under scrutiny over safety and personnel issues.