Oprah, 'Three Billboards' triumph at black-draped Globes
Jake Coyle, AP Film Writer | 1/8/2018, 6:32 a.m.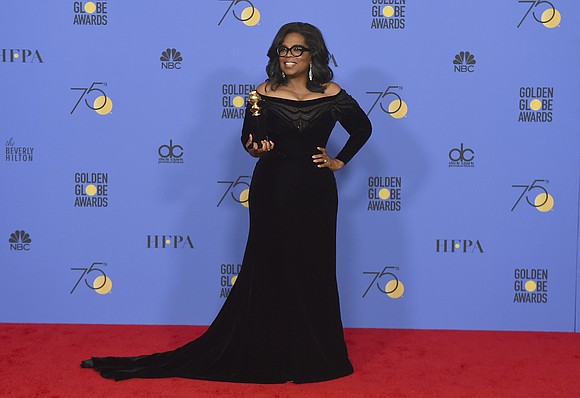 "May we teach all of our children that speaking out without fear of retribution is our new North Star," said Dern, accepting her Globe.
Other winners continued the theme. Amazon's recently debuted "The Marvelous Mrs. Maisel," about a 1950s housewife who takes up stand-up comedy, won best TV series comedy, and best actress for Rachel Brosnahan. Elisabeth Moss, accepting an award for her performance in Hulu's "The Handmaid's Tale," movingly dedicated her award to Margaret Atwood, whose book the show is based on. "The Handmaid's Tale" later added the award for best TV series, drama.
"We no longer live in the blank white spaces at the edge of print," said Moss, referencing Atwood's prose. "We no longer live in the gaps between the stories. We are the stories in print and we are writing the stories ourselves."
Hollywood's awards season is seen as wide open. And though the Globes have little correlation with the Oscars, a handful of movies came away with big wins.
Greta Gerwig's mother-daughter tale "Lady Bird" won best picture, comedy or musical, and best actress honors for Saoirse Ronan. Guillermo del Toro's Cold War-era fantasy "The Shape of Water" won for its score and del Toro's directing. The emotional Mexican-born filmmaker wiped back tears and managed to quiet the music that urged him off.
Notably left empty-handed were Christopher Nolan's "Dunkirk," Jordan Peele's horror sensation "Get Out" and Steven Spielberg's "The Post," starring Tom Hanks and Meryl Streep. At the top of the show, Meyers alluded to Spielberg's film's awards-season bona fides, feigned to present an armful of Globes before the show even started.
The Globes had long been the stomping grounds of disgraced mogul Weinstein, whose downfall precipitated allegations against James Toback, Spacey and many others. Weinstein presided over two decades of Globes winners and was well-known for his savvy manipulation of the 89-member press association.
Though it bills itself as Hollywood's biggest party, the Golden Globes struck a slightly more formal, Oscar-like tone, complete with moments of appreciation for movie legends. Kirk Douglas, 101, appearing with his daughter-in-law, Catherin Zeta-Jones, received a warm standing ovation.
Best actor in a comedy or musical went to James Franco for his performance as the infamous "The Room" filmmaker Tommy Wiseau. Franco dragged his co-star and brother, Dave, to the stage and called up Wiseau. When the Wiseau, wearing his trademark sunglasses, got to the stage, he moved for the microphone before Franco turned him back. "Whoa, whoa, whoa," said Franco as the audience chuckled.
Gary Oldman, considered by some to be the best actor front runner, won for his Winston Churchill in "Darkest Hour," edging out newcomer Timothee Chalamet ("Call Me By Your Name") and Hanks.
Best foreign language film went to Germany's "In the Fade." Allison Janney took best supporting actress in a comedy for the Tonya Harding tale "I, Tonya." Aziz Ansari took best actor in a comedy series for his Netflix show "Master of None."
Best animated film went to the Pixar release "Coco." Pixar co-founder John Lasseter is taking a "six-month sabbatical" after acknowledging "missteps" in his workplace behavior. Backstage, "Coco" director Lee Unkrich was asked about changes at Pixar. "We can all be better," he said. "We have been taking steps and continue to move forward to create art."