African-American unemployment hit record low in December
Christopher Rugaber, AP Economics Writer | 1/6/2018, 5:29 a.m.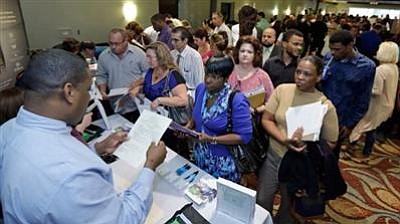 And the jobless rate for Asians was 2.5 percent in December, just above the record low of 2.4 percent set in 2006.
Q. What factors have helped lower unemployment for African-Americans?
A. One major reason, Wilson says, is that many more black Americans are college graduates than in the past. That doesn't completely offset the effects of discrimination. But among all groups, college graduates have lower unemployment rates than those with less education.
Another driver is economic: When the national unemployment rate falls to ultra-low levels, employers typically cast wider nets to find the workers they need. As they do so, they typically start pulling in more people from historically disadvantaged groups. These include job-seekers with less education as well as racial minorities.
With the current U.S. unemployment rate at a 17-year low of 4.1 percent, that appears to be what's happening.
Some economists want the Federal Reserve to hold off on raising the short-term interest rate it controls for exactly this reason: Raising that rate could slow growth just as the benefits of the economy's expansion are spreading to disadvantaged groups.
Q. Where might the unemployment rate for African-Americans go from here?
A. It depends on the economy. Most economists expect healthy growth this year, fueled in part by the Trump administration's tax cuts for individuals and companies. That should lower unemployment for all Americans.
The African-American unemployment rate is highly volatile and could rise or fall noticeably in the months ahead. It's down from 7.9 percent a year ago.
Typically, the African-American unemployment rate is about twice the rate for whites and is more volatile. Wilson calculates that for each percentage-point change in the rate for whites, up or down, the rate for African-Americans will swing by about 1.6 points. -- (AP)