Taraji P. Henson kicks off the New Year with 'Proud Mary'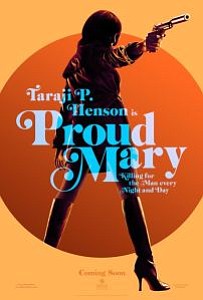 The New Year is kicking butt at the movies. And leading the charge is Taraji P. Henson wearing black leather thigh high boots in the action flick "Proud Mary."
In the film, opening Jan. 12, Henson plays Mary Goodwin, a hit woman for a Boston crime family who breaks her assassin's code when she meets a young boy, who, according to Deadline, "awakens in her a maternal instinct."
The trailer for the film opens with Tina Turner belting out her cover of the Credence Clearwater Revival hit "Proud Mary," as Henson, donning a platinum wig and carrying some serious fire power, prepares to unleash hell on her enemies.
This is a transitioning role for Henson who won a Golden Globe for her role as Cookie Lyon in the hit Fox series "Empire." Henson has appeared in the box office juggernauts "Hidden Figures" and "Think Like a Man" and received an Oscar nod for her role in "The Curious Case of Benjamin Button," but this will be the first major film the star has had to carry on her on as the lead … and she is a producer.
According to CinemaBlend, Henson said she took the role because it was "just different from anything I've ever done before. I really love playing different characters. ... The challenge for me is how do you make a character that people could really hate likeable? She does kill a lot of people, but for good reason."
In addition to celebrating her new leading role, Henson, 47, is also celebrating a new love life. In December, she told Essence that she is happily in a relationship with former NFL cornerback Kelvin Hayden, who she has been dating for two years.
"It was all over 'The Shade Room' anyway," Henson said. "You know, I'm not the type to blast my personal business, but you know, I think that it's important for people to know that I'm happy. I'm very, very happy. I just am. We've been together for two years. And no one would really know that because I don't blast my info like that but I'm very happy.
"I don't really put a lot on what I do because, you know, people love you when you're in the limelight. But what happens when the lights go off?" she continued. "So, those people care about me no matter what, and those are the people I keep close to me. So, I never buy into the hype. They love you when you hot, and they love you when you not, you know? So, I never buy into that fake love. I got so much real love around me that I'm not confused."
"Proud Mary," directed by Babak Najaf, also stars Danny Glover, Margaret Avery and Billy Brown.
Follow me on Twitter @ShondaMcClain.