Plenty of opinions, but few solutions to fix college hoops
Ralph D. Russo, AP College Sports Writer | 2/28/2018, 6:55 a.m.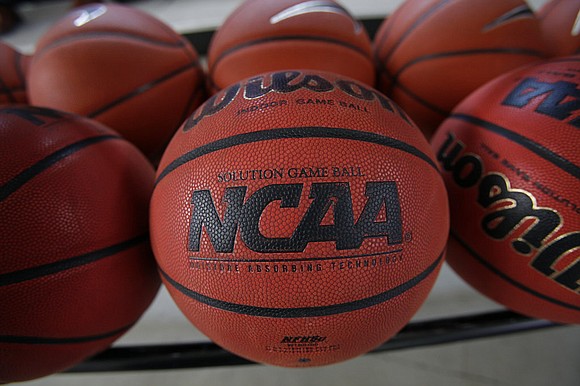 The cracked facade of NCAA hoops appears to be crumbling and while LeBron James, John Calipari and many agree that college basketball should be overhauled, there's no consensus on how to repair the system.
A federal investigation has alleged hundreds of thousands of dollars in bribes and kickbacks being funneled to influence recruits, an FBI probe that many fans believe reveals just a tiny slice of potential corruption in college sports.
In September, the Justice Department arrested 10 people, including four assistant coaches from Arizona, Southern California, Auburn and Oklahoma State. Payments of up to $150,000, supplied by Adidas, were promised to at least three top high school recruits to attend two schools sponsored by the shoe company, according to federal prosecutors.
A report last week by Yahoo! Sports revealed documents showing dozens of prominent players, coaches and schools could be involved in — while likely not criminal behavior — breaking NCAA rules. All this looms over college basketball as March begins, the month when championship tournaments and brackets take center stage across America. The cash cow of college sports that brings in hundreds of millions of dollars to the NCAA annually.
The NCAA has already announced the formation of the commission on college basketball , headed by former Secretary of State Condoleezza Rice, to recommend changes.
"I don't know if there's any fixing the NCAA. I don't think there is," said James, who never played in college, jumping from high school to the NBA at a time when that had not yet been prohibited by the league.
"The NCAA is corrupt — we know that," the Cleveland Cavaliers superstar said.
Fingers point in several directions about the reasons for the problems, including the NCAA itself, the age limit to enter the NBA, paying college athletes. Here is a more in depth look at some of them:
THE NCAA IS THE SCHOOLS
CURRENTLY: The most common misconception about college sports' governing body is that it is an independent organization that governors the schools. The NCAA is a voluntary association of the schools and that membership ultimately determines the rules — like what payments to an athlete or his family members are allowable. NCAA President Mark Emmert is the face and voice of the association, but — unlike a commissioner of a professional league — he has very limited power beyond being a potential catalyst for change. Or protector of the status quo.
THE TALK: There are 351 schools that play Division I basketball from powerhouse Kentucky to tiny St. Francis College in Brooklyn, New York. Priorities range far and wide and what an Atlantic Coast Conference school sees as a potential fix to the system, an Atlantic Sun school could see as a threat to what little competitive balance exists in D-I. The result is: Many of the potential remedies floated for corruption in college sports don't actually involve NCAA changes.
ONE-AND-DONE
CURRENTLY: The NBA instituted a rule 12 years ago that prohibited players from entering the draft before they were at least 19 and a year removed from high school. The NCAA has no control over this rule. The NFL rule — which requires players be three years removed from high school — is also problematic, but high school aged football players are not generally as close as basketball players to being pro-ready.