8 lenders that aren't serving people of color for home loans
Aaron Glantz, Emmanuel Martinez and Jennifer Gollan of REVEAL | 2/25/2018, 10:18 a.m.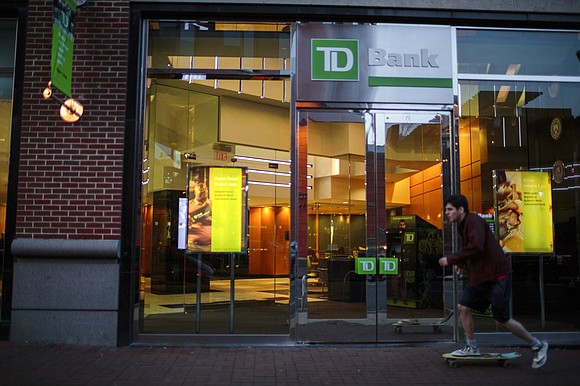 Across America, a troubling pattern emerges in data analyzed by Reveal from The Center for Investigative Reporting: Nearly two-thirds of mortgage lenders denied home loans for people of color at higher rates than for white people. But among the 6,600 U.S. lenders, some banks stood out for particularly extreme practices.
Note: Unless otherwise specified, all figures below rely on publicly available Home Mortgage Disclosure Act data and reflect conventional home purchase lending in 2015 and 2016.
Some of America's biggest banks had the worst track records. Among banks that took in more than 10,000 conventional loan applications in 2015 and 2016, these two were the most likely to say no:
TD Bank - "America's most convenient bank"
Headquarters: Cherry Hill, New Jersey
The skinny: African American and Latino borrowers are more likely to get turned down by TD Bank than by any other major mortgage lender. The bank turned down 54 percent of black homebuyers and 45 percent of Latino homebuyers, more than three times the industry averages.
The response: TD Bank declined to discuss its lending. Bank spokeswoman Judith Schmidt sent a statement saying the bank "makes credit decisions based on each customer's credit profile, not on factors such as race and ethnicity." It said an internal review of its lending patterns found that, after taking into account creditworthiness, its black and Latino applicants were no more likely to be denied loans than white applicants.
Capital One - "What's in your wallet?"
Headquarters: McLean, Virginia
The skinny: Capital One exited the home mortgage market in 2017. In the years before, it took in a higher proportion of mortgage applications from people of color than most of its competitors. But when African Americans approached Capital One to buy a home, they were more likely to get turned down than get a loan. Latino applicants fared slightly better. They were rejected 31 percent of the time, the third-highest rate among major lenders.
The response: In an email, Capital One spokeswoman Tatiana Stead said the company "either exceeds or is in line with industry benchmarks" when it comes to serving people of color and minority neighborhoods. "We have and will continue (to) work to ensure that Capital One's lending standards and our commitment to fair banking practices are maintained across all of our banking operations," she said.
---
The economic recovery has been marked by the rise of mortgage lenders, which unlike banks are not required to follow Community Reinvestment Act rules to lend to low-income borrowers and in blighted communities.
Ruoff Home Mortgage - "A great name to know when you need a mortgage"
Headquarters: Fort Wayne, Indiana
The skinny: Since the housing bust, family-owned Ruoff Home Mortgage has originated the most loans in Indiana and is one of the fastest-growing mortgage lenders in the country. Although its biggest market was Indianapolis, with a large African American community, the company made 92 percent of its 5,300 conventional home loans to whites in 2015 and 2016.
The response: A spokeswoman for the company did not respond to two emails and a voicemail requesting comment.