Q&A: Yance Ford on race, justice and making Oscar history
Jake Coyle, AP Film Writer | 2/23/2018, 6:48 a.m.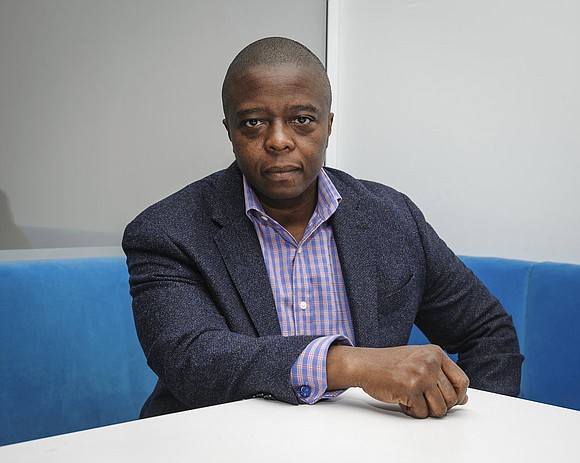 NEW YORK — In the Oscar-nominated documentary "Strong Island," Yance Ford stares back at the camera with profound sorrow and calm resilience.
"Strong Island," a Netflix release, is Ford's investigation into the killing of his brother, William Ford, in 1992 in Central Islip, New York. Ford, a 22-year-old black man, was shot and killed by a 19-year-old white man — a mechanic named Mark Reilly — after a verbal altercation. But an all-white grand jury declined to indict Reilly and the investigation has remained sealed.
"I'm not angry," Yance Ford says into the camera. "I'm also not willing to accept that someone else gets to say who William was. And if you're uncomfortable with me asking these questions, you should probably get up and go."
Ford's film is a kind of investigative memoir that burrows into not only the justice of his brother's death but also the still-quaking reverberations that William's loss has had on their family, one that moved from South Carolina to Brooklyn before settling in the suburbs of Long Island.
Much of the film's power comes from the raw, emotional first-person filmmaking of Ford, a 44-year-old former producer for the PBS documentary program "POV," making his feature film debut. By framing himself in searing close-ups, Ford dares viewers to analyze their own biases, fears and tolerance for injustice.
On a recent winter day, Ford spoke about making "Strong Island" and making Oscar history. Ford is the first transgender filmmaker nominated by the Academy Awards. "I am as proud of my occupying this place as the first transgender director," said Ford, "as I am of the nomination itself."
Associated Press: Did you always know that you would take this deeply personal approach in "Strong Island"?
Ford: It turned into this realm of a personal film because in the absence of due process, in the absence of justice, the personal film is the only thing that you have left. My producer Joslyn Barnes says it really well when she says personal filmmaking is the language of the dispossessed. Yes, it was a film based in personal experience but it's not really personal. It's just an illustration of what many, many people have gone through.
AP: Tell me about your brother.
Ford: The funny thing about answering that question, now, 25 years later, what you see in the film is my character attempting to get to know William better. So my answer has to be tempered with what I remember of my brother. The cruel thing about time is that it does things like: I've forgotten what his voice sounds like. Thankfully my sister and I have his diaries. I can tell you that he was a kind, compassionate, loyal person, that he believed in defending his family but also he had aspiration of being a law enforcement officer. He was a young man who was trying.
AP: Your film does much to reclaim his story from the narrative described by investigators. Has there been any catharsis for you in making the documentary?