At museum, current and ex-inmates create art and futures
Kristen De Groot, Associated Press | 2/21/2018, 7:10 a.m.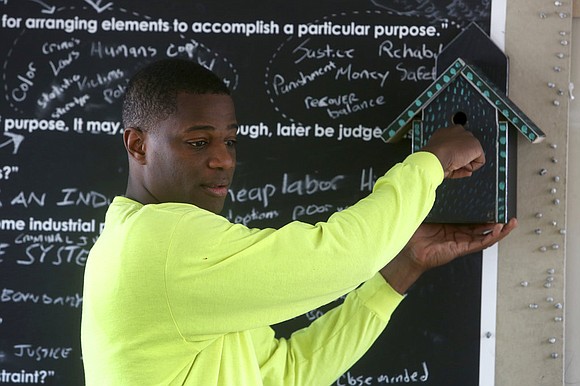 PHILADELPHIA — As a child, Russell Craig spent time in the 1990s locked up at Philadelphia's Youth Study Center for truancy. It was a stubby, bleak dose of reality interrupting a touristy stretch of museums, monuments and splashing fountains along Philadelphia's grandest boulevard, the Benjamin Franklin Parkway. It sat there from the 1950s until it moved to make way for Barnes, which opened in 2012.
Now, about 25 years later and a self-taught artist, Craig finds himself returning to the site with fellow mural artist Ben Volta, helping teach art to formerly incarcerated men and women as part of new collaboration between the Barnes and Mural Arts Philadelphia's "Restorative Justice" program.
"It's a wild coincidence," he said.
The collaboration also involves current prison inmates, who together with the former inmates will create public art projects, including panels for a future mural and a body of work that will be exhibited at the Barnes.
"When crime and violence happen, the narrative of people's lives is destroyed," said Jane Golden, executive director of the Mural Arts Program. "Restorative justice asks us to come together and think about what forgiveness would look like, and art has a redemptive power."
The Barnes has transformed its former ticketing office into a studio space for workers in a Mural Arts program called "The Guild." It's a paid apprenticeship for formerly incarcerated people, seen as a way to unite those affected by crime through shared creative expression.
They learn everything from carpentry to metal work to printmaking and mural painting, and get an hourly wage. The program also offers support and tools to re-enter society, everything from help setting up bank accounts to getting a driver's license.
The Guild program has been around since the mid-2000s, and its apprentices have created murals around the city. They will be at the Barnes through mid-March.
Also part of the collaboration is a six-session class being taught by a Barnes educator at the state prison in Graterford. The class will focus on the history of mural painting from prehistoric rock art to contemporary street art and will dovetail with the work of the Guild. The two groups' works will serve as a starting point for a future mural by Phillip Adams.
Albert Barnes established the collection known for its Renoirs, Cezannes, Matisses and Picassos as an educational institution in 1922. Barnes insisted the workers at his pharmaceutical factories be given two paid hours per day to focus on learn about philosophy, history and art.
The collaboration with Mural Arts is a way to refocus on the collection's original mission, said Barnes Director of Adult Education Bill Perthes.
"Many prisoners are lifers at Graterford," said Perthes, who teaches the class. "It gives them the opportunity to have a sense of participating in something that has life outside the prison. They take great pride in that."
On a recent afternoon, about 10 Guild apprentices gathered inside the Barnes studio, talking about birdhouses they built and painted that will soon be up for sale. All the proceeds will go to the artist.