Serena Williams champions issues on and off tennis court
Jesse J. Holland, Associated Press | 2/20/2018, 7:30 a.m.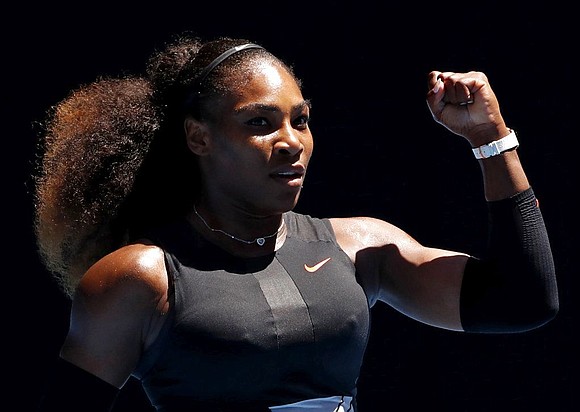 Moments after Serena Williams won her seventh Wimbledon title, she proudly raised her fist in a black power salute.
It caused a bit of frenzy at the All-England Club in 2016, but Williams' action shouldn't have surprised anyone: She'd already been one of the most vocal supporters of the Black Lives Matter movement. She was one of the first major athletes to decry the failure to indict a white officer in the death of unarmed black teenager Michael Brown in Ferguson, Missouri — while also condemning violence against police.
"What caused me to speak out? Just life," Williams said. "That's just who I am. I always believe in the greater good and doing what's right."
Williams isn't alone in her activism. Female athletes — especially black women — have long been out there pushing for social change. Wilma Rudolph's victory parade celebrating her three gold medals from the 1960 Olympics in Rome was the first integrated event in Clarksville, Tennessee.
But despite their efforts on the field and off, women athletes have to struggle to get the same attention as men despite having as much to say, said Harry Edwards, a scholar of race and sports who has worked as a consultant for several U.S. pro teams.
"We have this twisted, almost-demented obsession with women's second-class status with their physical inferiority," he said. "It prevents us from appreciating the great athletes that they are ... but it also means that it shuts down a potential forum that these great athletes would have where they're valued for their athletic prowess in the same way that Muhammad Ali was, that Bill Russell was, that Tommy Smith and John Carlos were, that Arthur Ashe was, that Curt Flood was, so that when they speak, people listen."
While Williams has long been an advocate of Black Lives Matter, it was only after former NFL quarterback Colin Kaepernick took a knee during the 2016 season that the country really began to pay attention to black athlete activism. Kaepernick added his voice to a growing national movement, enveloping the entire league and starting an ongoing conversation that ventured outside football arenas.
Similarly, few people acknowledge that after the 2016 deaths of Philando Castile, Alton Sterling and the killing of Dallas police officers, dozens of WNBA players wore shirts with the men's names and kneeled for the national anthem.
It was a black woman, Knox College basketball player Ariyana Smith, who started the wave of athletic protest about the deaths of black men at the hands of police.
On Nov. 29, 2014, Smith made the "hands up, don't shoot" gesture during the national anthem before a game at Fontbonne University in Clayton, Missouri, before walking toward the American flag and laying prone on the floor for 4 1/2 minutes to symbolize the 4 ½ hours Brown lay in the streets of nearby Ferguson.
"We as black women are often invisible, so we don't get that credit," said Akilah Francique, a former athlete who cofounded the Sista to Sista program to foster a sense of connectedness among black female collegiate athletes.