AP Analysis: Trump's economic policy rooted in debt
Josh Boak, AP Economics Writer | 2/12/2018, 5:52 p.m.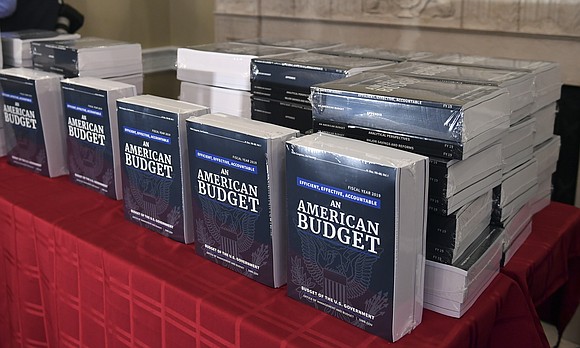 "It's not a sugar high," White House budget director Mick Mulvaney told Fox News on Sunday. "We have fundamentally changed the structure of the American economy to where we think we can change the long-term trends of our growth possibilities."
But investors are unconvinced. They're already starting to charge the government higher interest rates in anticipation of rising deficits. The yield on the 10-year U.S. Treasury climbed as high as 2.89 percent on Monday, up from a recent low of 2.06 percent in September.
Many forecasters assume that any economic upswing is temporary, but the Trump budget sees no end in sight.
Trump's budget overlaps with the mass retirement of baby boomers, whose use of programs such as Medicare and Social Security will likely cause government expenditures and the debt to keep increasing. Indeed, the government is borrowing more at a moment when unemployment is already at a 17-year low of 4.1 percent, a time when many economists say it should be repairing its balance sheet by borrowing less.
Even before the tax cuts and two-year spending deal, the Congressional Budget Office estimated that publicly held debt would equal more than 90 percent of the U.S. economy in 2027. The Trump budget assumes savings that would put the debt at less than 75 percent of the economy.
Trump achieves some of his debt savings by slashing Medicare by $554 billion over the next decade among other substantial cuts to programs at the Labor Department, the Environmental Protection Agency and elsewhere. But he also assumes that the entire economy will be $3.1 trillion bigger than previously forecast because of his policies.
Some of that growth would potentially come from new roadways and upgraded airports. But states appear to be increasingly hesitant to borrow more than they otherwise would for infrastructure projects, despite the financial incentives being introduced by Trump.
State budgets are already being squeezed as costs for education and programs such as Medicaid are rising faster than tax revenues, said Gabriel Petek, a managing director at Standard & Poor's Global Ratings.
"The plan doesn't appear to fundamentally alter existing incentives at the state level," Petek said. "The states we have been talking to are not eager to take on more debt." -- (AP)