Review: 'Black Panther' is dazzling grand-scale filmmaking
Jake Coyle, AP Film Writer | 2/10/2018, 5:04 a.m.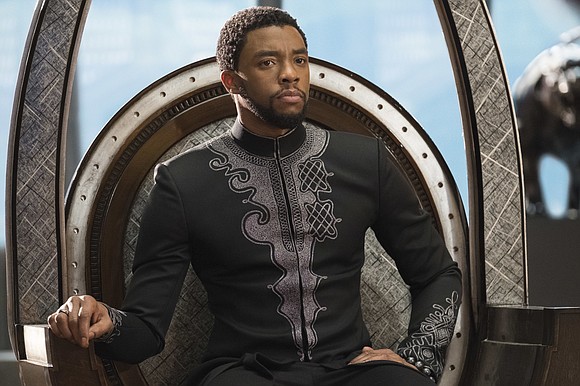 There are the expected special effects set-pieces and a very Bond-like trip to a South Korean casino. But the conflict at the heart of "Black Panther" is between separate factions of an African diaspora in a mythological realm filled with colonizers and racists who curse the Wakandan as "savages." It's powerful myth-making not just for its obvious timeliness but for the film's sincere grappling with heritage and destiny.
The traditional-meets-futuristic costumes and jewelry, by Ruth E. Carter, are ravishingly detailed. T'Challa's mystical visit to his ancestors is gloriously rendered on a twilight plain beneath a pink-hued sky and the glowing eyes of panthers in a tree. And most of all, Jordan's bitter, wounded warrior is uncommonly tender. He is a "villain" only in quotes; his means are extreme but his cause is just.
Created by Stan Lee and Jack Kirby, Black Panther first appeared in 1966. But the character has sparked the imaginations of many since, including the filmmaker Reginald Hudlin, the author Ta-Nehisi Coates and Wesley Snipes, who labored for years to adapt the comic into a movie. (Ironically it was Snipes' 1998 superhero film "Blade" that kicked off Marvel's box-office success.)
It's easy to lament how long it took to bring "Black Panther" to the big screen. But at least the wait was worth it.
"Black Panther," a Walt Disney Co. release, is rated PG-13 by the Motion Picture Association of America for "prolonged sequences of action violence, and a brief rude gesture." Running time: 134 minutes. Three and a half stars out of four. -- (AP)